General Hospital Spoilers: Friday, February 22 – Franco Balks At Jordan's Request – Sonny Reaches Out – Ryan Threatens Kevin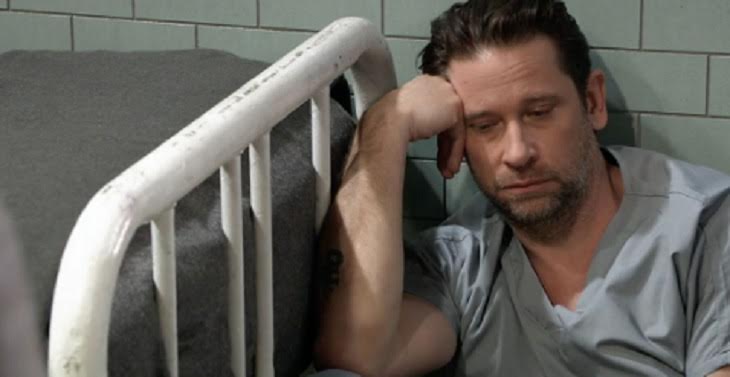 General Hospital spoilers for Friday, February 22, tease that Franco Baldwin (Roger Howarth) will get agitated at Jordan Ashford (Briana Nicole Henry) for suggesting that he do a tell-all interview as a means of angering the real killer. Franco will likely refuse, but it looks like Jordan will eventually talk him into doing the interview. But Franco may insist that Elizabeth Webber (Rebecca Herbst) know the truth first. "I'm calling Elizabeth and I'm telling her the truth!" he'll tell Jordan.
Meanwhile, Dr. Terry Randolph (Cassandra James) will step up in Elizabeth's time of need. Terry will be a good friend and will listen as Elizabeth recounts her confusion about Franco's guilty plea and her steadfast belief that he's innocent. Elizabeth will suspect that something else is going on and she and Terry will try to figure out what it could be.
Next, on the new episode of GH on Friday, February 22, Laura Webber (Genie Francis) and Kevin Collins (Jon Lindstrom) will try to find a way out of the Ferncliff basement. Laura will bang on the door and scream, in the hopes that someone will hear. It looks like they'll have another brush with Ryan Chamberlain (Jon Lindstrom), too, who will promptly threaten Kevin if the two of them don't behave.
Sonny Corinthos (Maurice Benard) will decide to take matters into his own hands. He wasn't happy to hear from Robert Scorpio (Tristan Rogers) that Dante Falconeri (Dominic Zamprogna) had gone rogue and was basically on his own in Turkey. Sonny will place a call to someone and declare that he needs help. Who could he be calling?
Franco's already questioning his plea decision, West Coast. Will Jordan's plan to lure the real killer out of the shadows work?
A dramatic, new #GH starts RIGHT NOW on ABC! #GH55 pic.twitter.com/eiMIBkxPJM

— General Hospital (@GeneralHospital) February 21, 2019
At the Metro Court, Carly Corinthos (Laura Wright) will encounter Ava Jerome (Maura West), and sparks will fly, as they usually do when these two share the same space. The two will butt heads until Ryan intervenes and announces to Carly that he and Ava are getting married. Imagine Carly's surprise to the news that "Kevin" and Ava will be wed!
Meanwhile, Jason Morgan (Steve Burton) and Sam McCall (Kelly Monaco) will continue to prepare for Sam's big trip with Shiloh Archer (Coby Ryan McLaughlin). They've got GPS on Sam's phone, and Jason plans to trail them in the event that something goes wrong. Jason considers Shiloh to be a threat, and he's worried that Shiloh may be playing Sam.
Finally, on Friday, February 22, Anna Devane (Finola Hughes) will find herself about fed up with Dr. Cabot. Cabot has just regained his sight, thanks to Anna, Hamilton Finn (Michael Easton), and Robert. But he doesn't seem to be as forthcoming in answering questions as he promised to be. On Friday's episode, he'll do or say something to anger Anna, and she'll angrily rush at him.
It looks like we're in for a great episode on Friday! Stay tuned to the ABC soap and don't forget to check Celebrating The Soaps often for the latest General Hospital spoilers, updates, and news.
Read more news, spoilers, and gossip on our Celebrating The Soaps General Hospital home