General Hospital Spoilers Friday, March 17: CarSon Reconnects, Nina Conflicted, Joss Furious, Victor Confronts Eileen
General Hospital spoilers for Friday, March 17, reveals Robert Scorpio (Tristan Rogers) and Diane Miller (Carolyn Hennesy) go over the details of a case. Nina Reeves (Cynthia Watros) spends time with Phyllis Caulfield (Joyce Guy). Carly Spencer (Laura Wright) and Sonny Corinthos (Maurice Benard) find themselves in a familiar space.
Josslyn 'Joss' Jacks (Eden McCoy) puts Dex Heller (Evan Hofer) on the spot. Valentin Cassadine (James Patrick Stuart) sympathizes with somebody. Victor Cassadine (Charles Shaughnessy) is taken aback by what Eileen Ashby (Heather Mazur) has to say.
General Hospital Spoilers – Friday, March 17, 2023: Robert Scorpio And Diane Miller Talk Shop
When Robert gets a knock at his office door, he won't be disappointed to see Diane has dropped by, and she's got good news to share with him. Does she have an update on a case they're both interested in? Will all this professional talk lead to more — ever?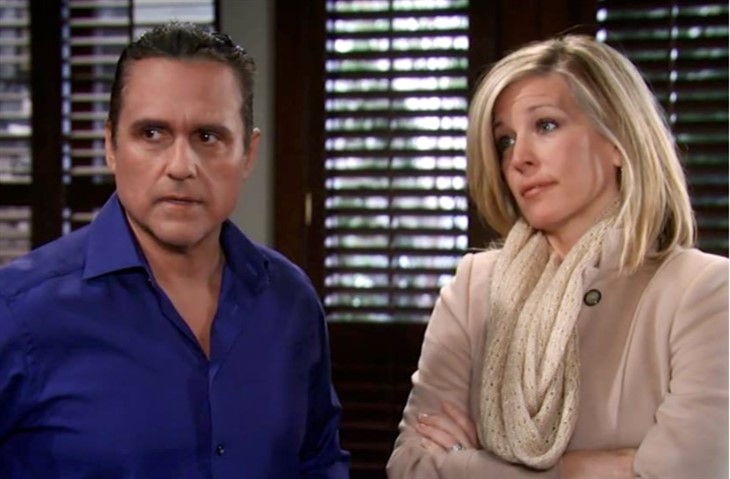 GH Spoilers – Say Phyllis Caulfield Pushes Nina Reeves To Be Honest With Herself
When Nina confides in Phyllis about how she really feels, it's going to leave her in an uncomfortable place as Phyllis reminds her that lying to herself won't get her anywhere. Can Nina really handle the heat pumping out of Sonny's kitchen — or is Carly just better equipped for that?
General Hospital Spoilers -Sonny Corinthos And Carly Spencer Discuss Family Matters
Why is Carly showing up at Sonny's door this time? Carly may want to ensure that Joss is safe while she's entangled with Dex — a promise she knows Sonny can't make her. That being said, she can't very well tell the mob master his stepdaughter and Dex are involved, so this might be about something else. Maybe Carly is hopeful that Sonny will have her back if the SEC comes knocking.
General Hospital Spoilers Tease Joss Demands Answers from Dex
Joss is tired of being strung around. She's ready for Dex to be done with the mob life — like, yesterday. Is he really going to give it all up for her, or is her mom going to be right once again?
GH Spoilers — Valentin Cassadine Offers His Sympathies
Valentin will offer his ear and a shoulder to cry on to someone in dire need of a friend. Is he finally warming to Lucy Coe's (Lynn Herring) plight? She's tired of safe house life and wants to go home with Martin 'Marty' Grey (Michael Knight). Valentin does know a thing or two about how it feels to pretend you're dead.
General Hospital Spoilers — March 17 — Victor Cassadine Confronts Eileen
Victor knows someone poisoned him, but he's convinced it's Laura Collins (Genie Francis). When Eileen tries to backpedal out of working with him once again, is he going to turn his attention toward her and suspect she was betraying him all along? That kind of suspicion could lead him right to Valentin, Lucy, and Anna Devane (Finola Hughes).
Which storyline are you most looking forward to following on GH on Friday, March 17th? Let us know, and keep checking back for more General Hospital news and spoilers.