General Hospital Spoilers: Nina's Never Sorry Until She's Caught
General Hospital spoilers reveal Nina Reeves (Cynthia Watros) has struggled with doing the right thing for a number of years. She admits freely that she can be self-absorbed and doesn't always think before acting. That has certainly been true of her aggressions toward Carly Spencer (Laura Wright), who is oblivious that Nina has anything to do with the SEC being tipped off — but not for long! Rumor has it Nina's reign of terror over this family will soon come to an end as a key player digs a bit further and finds the link between the SEC tip and Ms. Reeves.
General Hospital Spoilers — Triggered, Much?
Nina's missteps have led her into pretty treacherous territory over the years, and she's rarely known to apologize without offering an explanation as to why she made the poor choices she did or harmed whoever she harmed.
Nina never thinks it's fair that she's held accountable for her actions, because she feels justified in taking all of them if her feelings are hurt. Alas, regret isn't something she knows very well, because Nina is never sorry that she did the wrong thing — she's only sorry she gets caught.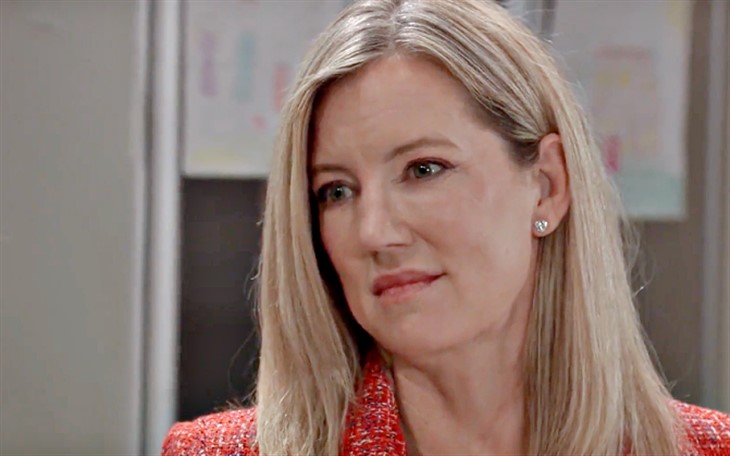 Nina's struggle with her conscience is far from over. We're going to see a few moments up ahead when she again tries to justify her actions and brush away any feelings of guilt or remorse.
However, it won't be long until those pesky guilty feelings come creeping back in. It remains to be seen whether Nina will develop any real sense of morality that persists. All it seems to take is one triggering word — usually from Carly Spencer (Laura Wright) — to send Nina tumbling backward.
GH Spoilers – Leak Nina Reeves Plays the Victim Card Way Too Much
General Hospital spoilers reveal Nina claims she's never looking to hurt anyone. She just wants to be happy and live her life, right? Sure, while also seeking social justice and retribution for the death of her daughter, Nelle Benson Jerome (Chloe Lanier). And don't forget she's also asking to maintain her relationship with a man she stole from his last wife whom she's always worried she won't measure up to.
She'd also like a relationship with his children — and her own child, Willow Corinthos (Katelyn MacMullen). Oh, and remember, she wants validation for every feeling she ever has. Is that asking too much for the biggest victim in Port Charles?
General Hospital Spoilers — She's Never Known Someone Like This Before
Nina has been wrapped up with some pretty questionable people over the years — from her mother, Madeline Reeves (Donna Mills), to her ex-husband, Silas Clay (Michael Easton). But she's never dated a world-renowned mobster…until now. Sonny Corinthos (Maurice Benard) can break a woman's spirit like no other, and if he wants to, he'll own Nina's heart for the rest of his life.
He just won't be letting her hang onto his when he learns that she tried to throw his favorite baby mama in the slammer. Nina probably won't ever change, but Sonny is absolutely going to leave his mark on her and make her remember what regret feels like, for once. Stay tuned for more GH news and spoilers just ahead.