General Hospital Spoilers: Liesl Is Set To Save Willow's Life — But Will She Survive The Transplant?
General Hospital spoilers tease that Liesl Obrecht (Kathleen Gati) is a successful match for the bone marrow donation that Willow Tait (Katelyn MacMullen) so desperately needs. However, it's not just going to be smooth sailing from here on out. Michael Corinthos (Chad Duell), Willow, and their family have all the hope in the world that she is going to survive this battle with cancer now, but problems could arise when Liesl drags her feet over the transplant, leaving Willow in a much weaker state as each day passes without the transplant. When Willow finally does go under for the transplant, she may not be strong enough to withstand it.
General Hospital Spoilers — Liesl Obrecht Is All Over The Place
Being a match for Willow doesn't mean that Liesl is going to deliver the goods. Liesl has been grieving the loss of her daughter, Dr. Britt Westbourne (Kelly Thiebaud), since she held her in her arms on New Year's Eve and watched the life leave her body. Ever since, she prayed the truth about who the Hook Killer was would come out, which it has.
However, knowing Heather Webber (Alley Mills) claimed Britt's life isn't enough for Liesl. She is seeking more justice for her daughter's death, and can't accept that it was just at random. Someone must pay — someone beyond a crazy woman who was already serving a life sentence.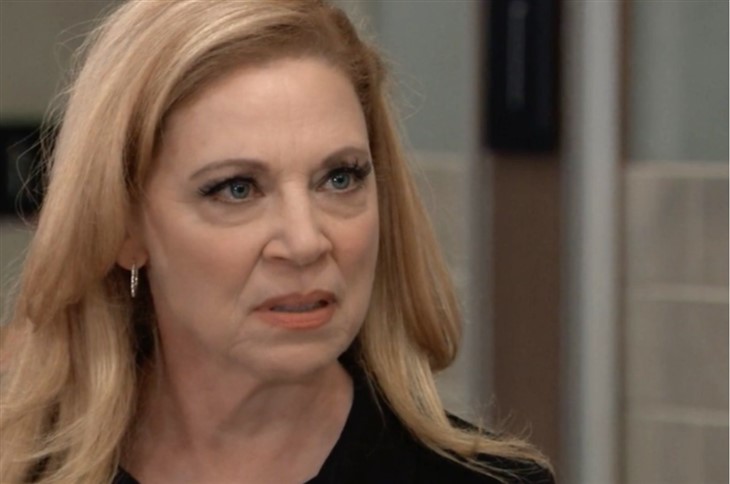 GH Spoilers – Hint Liesl Obrecht Will Ultimately Consent
Liesl has just found out Elizabeth Baldwin (Rebecca Herbst) helped Nikolas Cassadine (Adam Huss) hold Esme Prince (Avery Kristen Pohl) hostage when the PCPD was convinced Esme was The Hook. However, when Elizabeth and Nikolas realized Esme could not have been the maniacal fisherman killer, they still held her without telling the police otherwise. Thus, the cops were still focused on looking for Esme instead of someone else as The Hook, and Liesl feels Elizabeth is to blame for Britt's death because of it.
The fire in her belly will only burst further into flames when she finds out the person whose life Britt saved by paying with her own was Josslyn 'Joss' Jacks (Eden McCoy) — Carly Spencer's (Laura Wright) daughter. Liesl wants her daughter back and knows that is an impossible wish to grant. However, it doesn't mean she can't even the score by taking the next closest thing to Carly away from her — her daughter-in-law, Willow. This desire for vengeance is going to lead Liesl to withhold consent and refuse to donate her bone marrow to Willow for some time, until her niece, Nina Reeves (Cynthia Watros), finally convinces her otherwise. Will it be too late?
General Hospital Spoilers — Willow Tait Is Weak
Willow is going to grow weaker with each passing day and may eventually require hospitalization again. She may have to receive chemotherapy to prepare for the transplant, too, which would leave her in an even weaker state. Knowing that the transplant may or may not be coming is going to leave the entire family up in arms — especially Nina, who can't believe her aunt would do this to her. By the time the floodgates break for Liesl and she consents to the donation, Willow is going to be given a 50/50 chance of making it through the transplant surgery. If she dies, will Nina feel Willow's blood is on her Aunt Liesl's hands? Stay tuned for more GH news and spoilers just ahead to find out.