General Hospital Spoilers Monday, March 6: Alexis Provokes Gregory, Esme's Ace in the Hole, Ava Confides to Sonny
General Hospital spoilers for Monday, March 6 reveal that Alexis Davis (Nancy Lee Grahn) puts Gregory Chase (Gregory Harrison) on the spot. Diane Miller (Carolyn Hennesy) delivers news to Spencer Cassadine (Nicholas Chavez).
Esme Prince (Avery Kristen Pohl) looks at things a bit differently. Ava Jerome Cassadine (Maura West) tells Sonny Corinthos (Maurice Benard) the truth. Victor Cassadine (Charles Shaughnessy) issues a threat to Elizabeth Baldwin (Rebecca Herbst).
General Hospital Spoilers – Monday, March 6, 2023: Alexis Davis Demands Answers From Gregory

Chase
Alexis thought she would weasel her way around the regulations on campus to get Gregory a shot at working for The Invader, but as it turns out, he wasn't as interested in the job as she let on. Why is he lying? Could it have anything to do with his health? Alexis is determined to find out.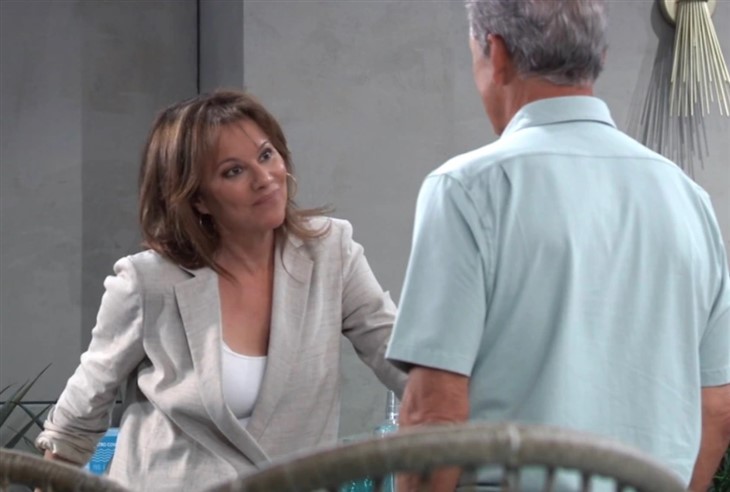 General Hospital Spoilers – Say Diane Miller Miller Breaks The Truth To Spencer Cassadine
Diane will have to let Spencer know his plans have potentially been poxed. He may not be taking his baby brother, Ace Cassadine, home to raise for herself — even in his father, Nikolas Cassadine's (Adam Huss) absence. How is Spencer going to feel about this potential change in plans?
GH Spoilers — Esme Price Expands Her World View
Esme will have to come to terms with her reality — she is going back to prison, and her baby isn't coming with her. With Nikolas gone, she's going to have to trust someone else to care for her son. Who will she pick?
General Hospital Spoilers – Tease Ava
Jerome

Needs Sonny Corinthos's Support

Ava is sweating her situation and worried that Dante Falconeri (Dominic Zamprogna) is about to catch on to her lies. Austin Gatlin Holt (Roger Howarth) might be in it with her for moral support, but she's feeling like she needs more than that.

When she clues Sonny in on her drama, it may be about more than just letting the father of her child know what's going on. She may need help; can the mob master supply it?
General Hospital Spoilers — March 6 — Elizabeth Baldwin Feels The Heat From Victor Cassadine
When Victor learned that Elizabeth was the person helping Nikolas dig himself a hole too big to crawl out of, he didn't take it well. He is so frustrated with this nephew of his who can't seem to keep his affairs in order — quite literally.
However, Elizabeth rolling over on Nikolas to the PCPD is a far more concerning issue for Victor. Does that mean he can't possibly be the person ordering Mason (Nathanyael Grey) around if he is assuming his nephew is alive and well somewhere?
Which storyline are you most looking forward to following on GH on Monday, March 6th? Let us know, and keep checking back for more GH news and spoilers.