General Hospital Spoilers: Molly And TJ's Decision- Do They Want A Baby Now Or Later?
General Hospital spoilers and updates tease that Molly Lansing-Davis (Haley Pullos) and TJ Ashford (Tajh Bellow) have a big decision ahead of them. They've been in their domestic partnership a year, and Molly thought she was pregnant-and isn't-but they need to discuss if they want a baby now, or later.
General Hospital Spoilers – Nosy Kristina Corinthos-Davis' Discovery
The subject of having a baby comes up front and center thanks to some humorous misunderstandings at an anniversary party that her sisters have for them. Molly's not feeling too good, and neither is Sam McCall (Kelly Monaco), and they hold off on alcoholic drinks during a toast. That gets Kristina Corinthos-Davis' (Lexie Ainsworth) curiosity going and after TJ has to leave when he gets a call from the hospital, she makes a discovery.
Molly wants something sweet, and in a shopping bag Sam told her to look in there's a pregnancy test. It's not for Sam, it's one she picked up for Molly, but when Dante Falconeri (Dominic Zamprogna) comes home, Kristina holds up the test and asks if they're holding out!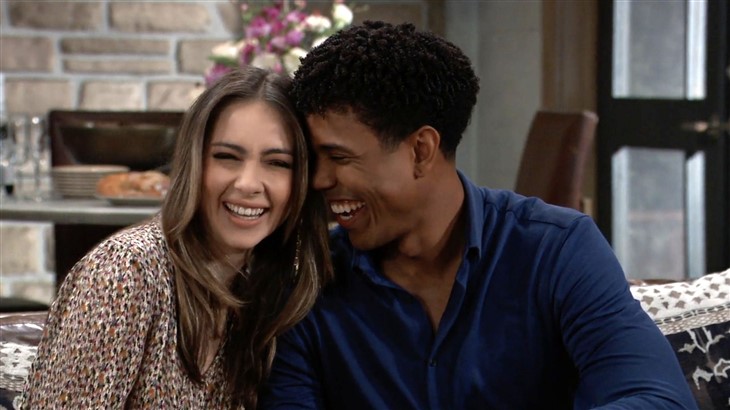 GH Spoilers – Busy And Upwardly Mobile
Sam has some explaining to do to Dante, and Molly comes out of the bathroom where she'd been queasy and the truth comes out it's not for Sam but for her. She thinks she might be pregnant but she's extremely nervous about it, because she and TJ never really have talked about it, being busy and upwardly mobile. They've both progressed in their careers, with her being promoted to full assistant district attorney and TJ getting his own doctor's office at GH. Molly takes the pregnancy test off screen, and it comes up negative-she's relieved and disappointed all at the same time, but now it's time she and TJ discussed children. She determines to bring up the subject with TJ as soon as possible, because the negative result confirmed that she really, really, wants a baby.
General Hospital Spoilers – Overwhelming Conversation
Molly is rather overwhelmed when she realizes that she really wants a baby soon, but she isn't sure if TJ is ready or not. She wants to make sure that he is in the right place in his life to be a father, and her disappointment about the negative pregnancy test confirms she is. But she's pleasantly surprised when she brings up the subject, including about having taken a test and being disappointed.
TJ agrees that with their recent promotions, it would be a great time to start a family. He's just as ready as she is, usually being on the same page although he's more traditional, and she's – not.
Be sure to catch up on everything happening with GH right now. Come back here often for General Hospital spoilers, news, and updates.