General Hospital Spoilers Wednesday, September 27: Finn Rebels – Spinelli Spills The Beans – Carly Makes a Decision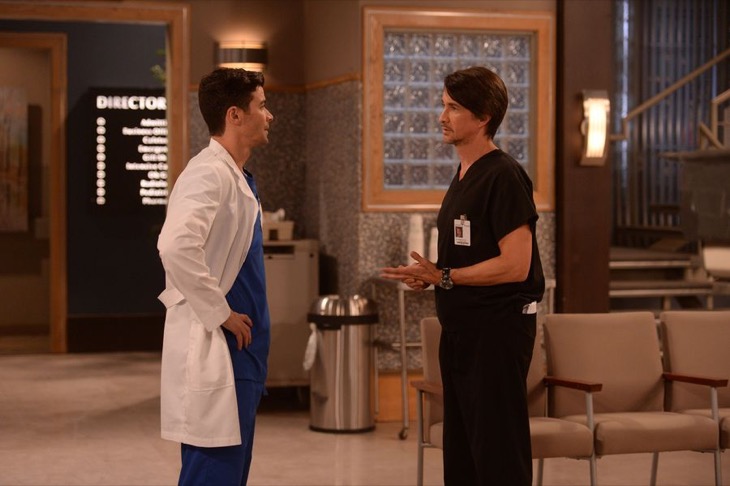 Sit back, relax and enjoy another episode of General Hospital for Wednesday September 27, it promises plenty of action and drama. Please be sure to tune in, you don't want to miss any of the drama.
Finn Challenges Anna
Looks like there is trouble in paradise. In Monaco, Dr. Hamilton Finn (Michael Easton) is heard challenging super spy Anna Devan's (Finola Hughes) blackmail threats. He tells her if you want to make good on your blackmail threat then go right ahead. Has Anna crossed an ethical line with Finn? Will he take his chances and go back to Port Charles knowing he could face charges for drug smuggling? The only reason Finn agreed to accompany Anna on her recent spy mission to Monaco was the threat she held over his head. Maybe Finn is not the push over Ann thought he was.
Spinelli Spills The Beans
Spinelli (Bradford Anderson) is seen ringing his hands as he tells Maxie (Kirsten Storms) that his reason for being there is about Man Landers. Is he about to spill the beans about the intimate hug he witnessed between Nathan (Ryan Paevey) and nurse Amy (Risa Dorken)? Recent General Hospital spoilers indicate Nathan will be challenged in a big way as the fans of Man Landers are about to find out just who the man is behind that one beautiful blue eye. Will this spell trouble for the book deal or even cause a problem at the Port Charles Police Department? This could cause quite a scandal as well as a few laughs.
Nina Is Proud
At the book launch party, Nina (Michele Stafford) and Amy look on proudly as book publisher Quinn Danvers (Jennifer Bassey) announces she is about to make Nathan West the next best thing. She may be correct but it may not come out as she planned. General Hospital spoilers indicate Nathan is about to be busted in a very public way.
Nelle Is Ambushed
Speaking of trouble in paradise, Michael (Chad Duel) asks Nelle (Chole Lanier) if there is something wrong and if she is having second thoughts. Since Carly has discovered more information on Nelle's checkered past and has even referred to her has the black widow, Nelle has been a little reluctant to accept any gifts from Michael. Michael recently purchased the condo where Nelle lives and presented it to her so that she would not have to leave Port Charles to find cheaper accommodations. Could she be reconsidering his gift? ABC Spoilers tease Nelle is about to be ambushed. Could her past show up in the form of a visit from the family who has accused her of murdering her fiancée? What will this do to her relationship with Michael? Up to this point nothing has caused Michael to believe the worst in her; could this be about to change?
Carly Confides In Bobby
Meanwhile, over at Kelly's diner, Carly (Laura Wright) informs her mom Bobbie (Jacklyn Zeman) that after today she will know if she will be able to keep her promise to Michael. She may have plans to meet with the sister of the young man who died in a boating accident in which Nelle was listed as a person of interest. Certainly, this family will not have anything good to say about Nelle and her involvement in the untimely death of this young man. Could this information be damning to Nelle or just more of the same speculation. ABC spoilers state Bobbie offers an olive branch. Could she now be willing to take Nell at her word for the sake of peace with her grandson Michael?
Be sure to tune in to watch General Hospital on ABC on Wednesday September 27you won't want to miss any of the exciting drama.
Also, don't forget to check back with Celebrating the Soaps for all your latest news, updates, and spoilers for General Hospital along with all your other favorite daytime television soaps