General Hospital Spoilers: Monday, March 18 – Dante Shoots At Sonny – Blind Alex Resurfaces – Mike Freaks Out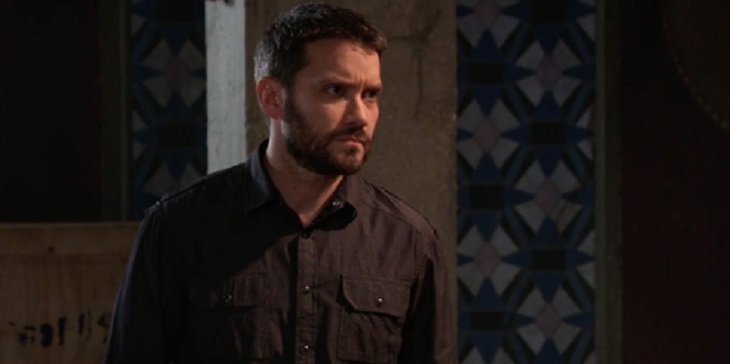 General Hospital spoilers for Monday, March 18, tease that Jordan Ashford (Briana Nicole Henry) will be up and around in her hospital room at GH. Jordan's determined to continue her work as Police Commissioner despite being laid up due to her need for a kidney transplant. It looks like Curtis Ashford (Donnell Turner) will be feeling uneasy about her condition, as Jordan tells him, "If you're thinking about it, then we should talk about it."
Meanwhile, Sasha Gilmore (Sofia Mattsson) will approach Peter August (Wes Ramsey) at The Floating Rib. She'll have a matter to discuss with him, and it turns out that she'll want some help planning the festivities for Nina Reeves (Michelle Stafford) and Valentin Cassadine's (James Patrick Stuart) wedding. Since they're the maid of honor and best man, respectively, they've got some duties to fulfill.
General Hospital Sopilers – Anna Finds Alex
Next, on the new episode of GH on Monday, March 18, Anna Devane (Finola Hughes) will have success in tracking down her twin sister Alex Devane (Finola Hughes). It looks like Valentin will have had luck in finding Alex, who will need surgery for her blindness. In Monday's GH previews, Anna is shown speaking in frustration with Alex, asking "Which part of my life actually belongs to you?"
Michael Corinthos (Chad Duell) will decide that it's time to spend some quality time with his grandfather Mike Corbin (Max Gail), and so he'll take Mike out for barbecue at The Floating Rib. Carly Corinthos (Laura Wright) will be back home from her ordeal in Niagara Falls, and she'll join them for some food and company. But it looks like Mike will have an Alzheimer's related crisis, as he'll get highly agitated and want to leave the premises.
Also at The Floating Rib, Lulu Falconeri (Emme Rylan) and Maxie West (Kirsten Storms) will meet up. They'll have a lot to discuss, given all of the new information that's come to light regarding Lulu's attack, and the topic of Dante Falconeri (Dominick Zamprogna) will also arise. Lulu will express frustration that Dante is still out there somewhere rather than home where he belongs. "I just wish that Dante was home," she'll lament.
General Hospital Spoilers – Shots Fired With Dante And Sonny
Finally, on Monday's new GH episode, Sonny Corinthos (Maurice Benard) will be shaken as Dante is handed a gun and told to shoot his father. Dante isn't acting like himself, but chances are that's just a ruse. But Sonny will get increasingly worried when it looks like Dante is going to shoot him, and then suddenly Dante will aim and shoot as Sonny yells, "What are you doing?"
"Show yourself or your boss dies." @dom_zamprogna #GH55 pic.twitter.com/1LhqP9y6Xb

— General Hospital (@GeneralHospital) March 12, 2019
It looks like we're in for a great episode on Monday! Stay tuned to the ABC soap and don't forget to check Celebrating The Soaps often for the latest General Hospital spoilers, updates, and news.
Read more news, spoilers, and gossip on our Celebrating The Soaps General Hospital home