General Hospital Spoilers: Sonny Knows The Truth — Will He Retaliate Against Michael?
General Hospital spoilers tease Sonny Corinthos (Maurice Benard) is onto Dex Heller (Evan Hofer), who is going to assume he's only growing closer to Sonny in the days ahead. The mob kingpin has just invited Dex to stay at his penthouse for a bit while he recovers from his gunshot grazing and prepares to help Sonny with the Pikeman deal.
However, this is actually Sonny's way of keeping an eye on the henchman he doesn't trust. Sonny knows Dex is working for someone — he just doesn't know who, yet. When he finds out it's Michael Corinthos (Chad Duell), heads may roll.
General Hospital Spoilers — Dex Heller Is Dirty
Dex hasn't done the best job as staying covert and keeping the screwups to a minimum. Sonny has caught on to him more than a few times when it seemed like Dex didn't have a sufficient answer for his behavior. Still, Sonny kept giving him passes. Perhaps he was just that desperate for a new right-hand man, but it seems like Sonny wasn't paying as much attention before as he is now. He knows Dex is up to something and he intends to find out what it is.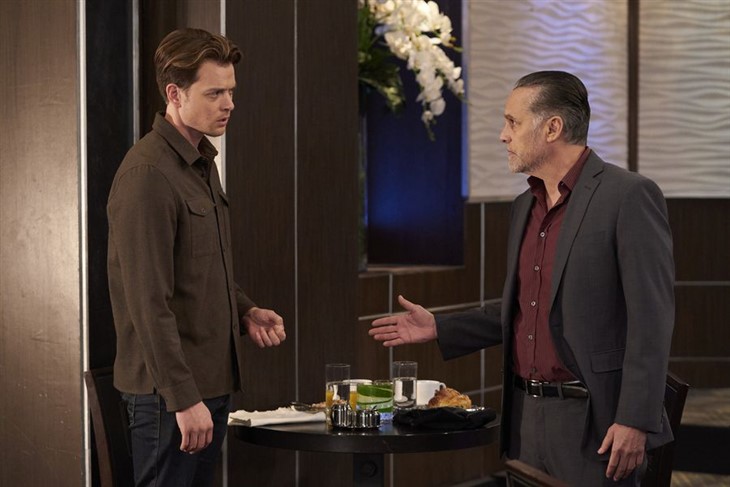 GH Spoilers – Tease Sonny Corinthos Is Sharp
General Hospital spoilers show Sonny has had eyes on Dex ever since the young associate came somewhat clean with him about his entanglement with Josslyn 'Joss' Jacks (Eden McCoy) on New Year's Eve. Sonny knew Dex was lying then, and he put a tail on him to find out more. However, Dex started getting better at covering his trail after that conversation.
So now that he's living at Sonny's place for a while, he will have to hone his skills if he's going to keep his arrangement with Michael under wraps. Of course, when Sonny discovers Dex's other relationship — with Joss, he just might think that's all he was hiding all along. Will he foolishly let his guard down?
General Hospital Spoilers — Michael Corinthos Is Out If His Depth
Whether Sonny lowers his guard toward Dex or not, he's going to find out that Michael was behind all of it soon. When he does, he will be livid. Michael is going to feel a certain amount of regret, and some of it because he isn't equipped to battle someone like Sonny and knows he should've known better. He also isn't sure he is even all that angry with his dad anymore. How Sonny behaves when he finds out Michael was out to get him could make or break their future as father and son. Keep checking back with us for more GH news and spoilers to find out how this storyline unfolds.