General Hospital Spoilers: Tuesday, November 20 – Stella & Marcus Catch Up – Jordan Hits A Snag – Kiki Gets An Eyeful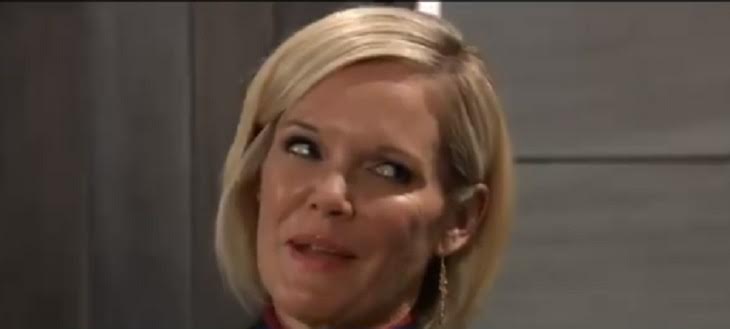 General Hospital spoilers for Tuesday, November 20, tease that Marcus (Nigel Gibbs) and Stella (Vernee Watkins) will continue their conversation. Stella was truly heartbroken to hear that Marcus had a wife, and it sounds like the two of them will delve into a deeper conversation about their past relationship. "I'll always regret the time I wasted," he'll say.
Meanwhile, it looks like Curtis (Donnell Turner) will be in for some pre-wedding festivities. Someone grabbed him after he left Jordan (Briana Nicole Henry), so it looks like there might be a bachelor party in store for him. But there may be a problem at the Metro Court, as Curtis says, "We're trapped in here for the night."
Sam sees right through Julian, West Coast. At least… she thinks she does. A brand-new #GH starts RIGHT NOW on ABC! @kellymonaco1 #GH55 pic.twitter.com/eN9c4CObzF

— General Hospital (@GeneralHospital) November 19, 2018
Speaking of problems at the Metro Court, it appears that the bachelorette party for Jordan will experience some problems as well. Maxie (Kirsten Storms), Lulu (Emme Rylan), Anna (Finola Hughes), and others will be present for the party, but it looks like they'll get stuck in a room themselves with Peter (Wes Ramsey) trying to get them out.
Next, on the new episode of GH on Tuesday, November 20, Carly (Laura Wright) will have words with Ava (Maura West). Ava will be in good spirits and in the mood to celebrate after setting up Griffin (Matt Cohen) and Sasha (Sofia Mattsson) in bed together. "What's got you so brazen?" Carly will ask. "Things are finally going my way," Ava will gloat.
Meanwhile, Laura (Genie Francis) will have a tense conversation with Ryan (Jon Lindstrom). Laura's got a sneaking suspicion that there's something larger going on with "Kevin" that led to his decision to separate from Laura. She'll corner Ryan and insist that he's going to answer her questions about what's been going on.
Finally, on Tuesday, November 20, Kiki (Hayley Erin) will arrive at Sasha's room at the Metro Court. She'll slowly open the door and be shocked at the scene she discovers…Griffin and Sasha in bed together. But will she fall for it, or will she catch on that this situation has Ava written all over it?
It looks like we're in for a great episode on Tuesday! Stay tuned to the ABC soap and don't forget to check Celebrating The Soaps often for the latest General Hospital spoilers, updates, and news.