General Hospital Weekly Spoilers: Emotional Goodbyes, Gruesome Discoveries, Peace Between Enemies
General Hospital spoilers and updates for March 27-31 tease heart-to-heart talks, emotional goodbyes, gruesome discoveries and peace between enemies. Elizabeth Baldwin (Rebecca Herbst) has a heart-to-heart talk, Port Charles says an emotional goodbye, Dex Heller (Evan Hofer) makes a gruesome discovery and two rivals put their differences aside.
General Hospital Spoilers – Heart-To-Heart Talks And Appreciation
On Monday, March 27, General Hospital spoilers show that Elizabeth has a heart-to-heart talk at Charlie's Pub with Laura Collins (Genie Francis) about their boys. Elizabeth will miss Cameron Webber (William Lipton) who's going off to college. But Laura wants to talk about Nikolas Cassadine, (Adam Huss) who's still missing.
Elsewhere, Marshall Ashford (Robert Gossett) shows his appreciation while Spencer Cassadine (Nicholas Alexander Chavez) is incredulous. Meanwhile, Trina Robinson (Tabyana Ali) attempts to run interference.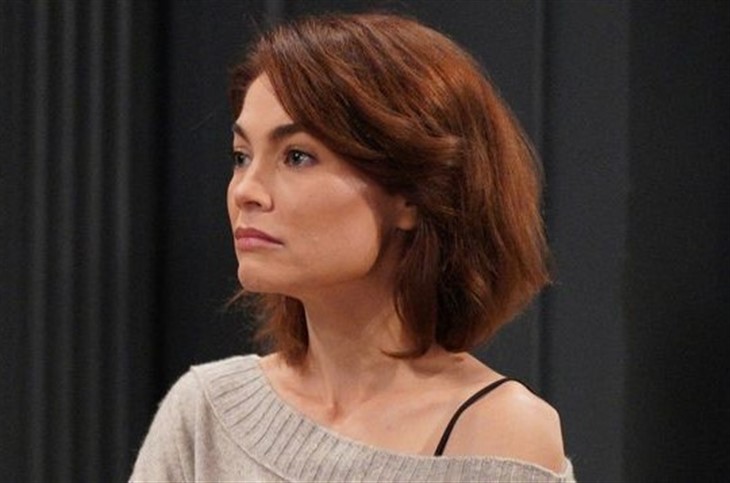 GH Spoilers – Outrage, Advice, And A Shock
Tuesday, March 28 finds Lucy Coe (Lynn Herring) outraged, likely about something to do with the Nurses' Ball that she disagrees with Maxie Jones (Kirsten Storms) on. Elsewhere, Cameron gives Spencer some advice, and he likely tells him he caught Esmé Prince (Avery Kristen Pohl) trying to leave their grandmother's house with Ace Prince-Cassadine (Joey and Jay Clay). Scott Baldwin (Kin Shriner) will open up to Laura, and Diane Miller (Carolyn Hennesy) will assist Robert Scorpio (Tristan Rogers). Elizabeth will get a shock, likely concerning Epiphany Johnson (Sonya Eddy) who she's been trying to contact and getting no response.
General Hospital Spoilers – An Emotional Goodbye
Wednesday, March 29 will honor the late Sonya Eddy in an Epiphany centered episode which also serves as a memorial service for the character Epiphany Johnson. Epiphany's off screen passing will be explained, after several days went by with Elizabeth getting no response from her. Marshall Ashford (Robert Gossett) had also been worried, as she was to make a cross country trip driving from California to Maryland.
Epiphany had passed her MCATS with flying colors, and been in medical school out west in California. Then she had been accepted into Johns Hopkins, a major research and teaching hospital in Baltimore, Maryland.
GH Spoilers – Secret Meetings, Gruesome Discoveries
Thursday, March 30 Spencer has a secret meeting with Victor Cassadine (Charles Shaughnessy). Spencer had wanted Victor to arrange for "something to happen" to Esmé, clearing the way for him to raise his little brother. Elsewhere, Dex will make a gruesome discovery, likely another "message" from the unknown enemy who ambushed Sonny Corinthos (Maurice Benard) and him in the warehouse.
Selina Wu (Lydia Look) will have some information for Sonny while Drew Cain (Cameron Mathison) will have an update for Anna Devane (Finola Hughes) and Valentin Cassadine (James Patrick Stuart). Elsewhere, Ava Jerome (Maura West) comes face to face with an enemy.
General Hospital Spoilers – Misgivings, Setbacks, Peace Between Enemies
Friday, March 31 Lucy will be frantic about something again, while Spencer will have misgivings. Ava will meet with Austin Gatlin-Holt (Roger Howarth) so the enemy was probably Mason Gatlin (Nathanyael Grey). Perhaps he will blackmail Ava over the missing Nikolas, who he has on life support in an unknown location.
Elsewhere, Maxie and Felicia Scorpio (Kristina Wagner) handle a setback-could it relate to Lucy being frantic? Last but not least, there will be at least temporary peace between enemies as Carly Spencer (Laura Wright) and Nina Reeves (Cynthia Watros) set their differences aside.
Be sure to catch up on everything happening with GH right now. Come back here often for General Hospital spoilers, news, and updates.