Neighbours Spoilers: Aaron And David On The Rocks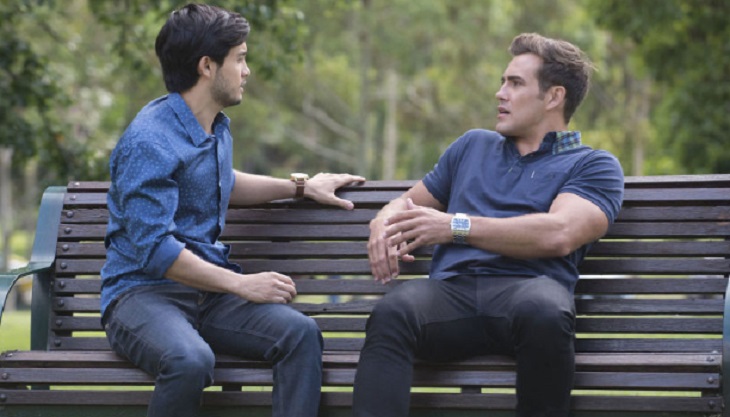 Newlyweds Aaron Brennan and David Tanaka face another road block in their relationship next week following Chloe's revelation about her health.
After she learns that David and Aaron are ready to start a family together – using Aaron's DNA – she is forced to reveal to them that she has the Huntington's gene, which means Aaron and Mark might too.
Mark immediately decides to get himself tested but Aaron runs from the possibility, insisting that he doesn't want to know either way and would rather go on living his life in ignorance.
However, he doesn't live in pure ignorance, as his attitude following the shocking news begins to affect his marriage and David is concerned about how he is handling the situation.
David notices that Aaron is using intense exercise as a means to distract himself from his family's problems – just as he had done before when he ended up hurting himself. He does his best to support Aaron's decision but, as a medical professional, urges Aaron to reconsider taking the test.
Soon David's brother Leo finds out abo their situation, and steps in as a good brother to speaks to Aaron himself. Leo accuses Aaron of thinking only of himself, making him see that his decision hugely impacts David too.
Realising that Leo has a good point, Aaron lets his back down and speaks honestly to David. Although he hasn't yet changed his mind, he reveals to his husband that he doesn't want to take the test just in case it's positive, which would put more pressure on the Brennan family when they're already dealing with so much.
However, happy news comes when Mark's tests come back negative. His relief gives Aaron the nudge that he needs, so he tells David that he's changed his mind and will take the test.
But will Aaron's news be good news?
Check out our exclusive Neighbours spoilers page for more details!
Want up-to-the-minute soaps news, spoilers, and gossip on your social feeds? Just hit 'Like' on our Facebook page and 'Follow' on our twitter