Neighbours Spoilers: Terese Willis Will Be Shot In Shocking Siege Storyline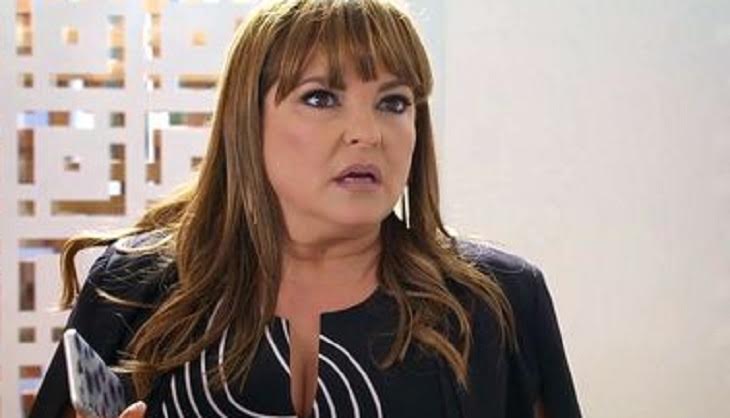 After weeks of fan theories, official Neighbours spoilers have confirmed that Terese Willis will be shot next week while protecting ex-boyfriend Leo Tanaka.
New pictures released by the soap see Terese laying on the floor of The Waterhole fighting for her life after being shot in the chest. Terese is an innocent victim in all of this though, as it was actually Leo Tanaka who was in a dangerous long-time feud with the Renshaw family.
When Ivan Renshaw – the uncle of Leo's current girlfriend Delaney – finds out that it was he who 'snitched' to the police and put him in jail, he comes to Erinsborough to seek revenge. Finding Leo at The Waterhole, he storms in, gun in hand, and tries to shoot him dead. However, the bullet instead hits Terese as she instinctively jumps in front of Leo to protect the man she loves.
Ivan is panicked and runs away immediately. This allows Terese's family and friends to seek help right away, ensuring that she is rushed to the hospital right away, getting the life-saving treatment that she needs.
Mark Brennan and Ned Willis quickly set forth to capture Ivan, but his brother Raymond – the father of Delaney – is still out there, causing trouble with a siege of his own at Harold's store.
Goodbye Lilly Van der Meer A.K.A. Xanthe, we'll all miss you on #Neighbours! 👋 pic.twitter.com/IsdEgXCVOp

— Neighbours (@NeighboursTV) January 8, 2019
As Terese lays in hospital Paul will not leave her side, and even arranges for a specialist to be flown in, ensuring she receives the best treatment possible. This doesn't go unnoticed by Paul's girlfriend Jane Harris, who realises that he is still in love with Terese after all, leaving her no choice but to leave Erinsborough.
It's not one way though, as Terese's feelings for Paul also become apparent after she calls out his name after regaining consciousness in hospital. Daughter Piper is obviously shocked, confused as to why she wouldn't call out Leo's name.
Is this a hint as to who Terese wants to be with?