Royal Family News: Kate Middleton's Coronation Outfit Honors Princess Diana and Queen Elizabeth
British royal family news divulges that today Princess Kate kept up her perfect record of impeccable dressing when she took center stage at her father-in-law King Charles III's coronation.
Kate appeared with the other royals in stunning attire, and she used her accessories to pay tribute to royal women who came before her, Queen Elizabeth and Princess Diana.
Royal Family News – Queen Kate Will One Day Be Crowned
Kate will herself one day be queen and today she got a firsthand look at what a coronation ceremony involves. The king's and Queen Camilla's coronation was held at Westminster Abbey with over 2,000 guests attending the historic event.
She sashayed into the Abbey along with her husband Prince William, and their children Princess Charlotte and Prince Louis, while her oldest son Prince George (and future king) walked with King Charles, as one of four pages for the day.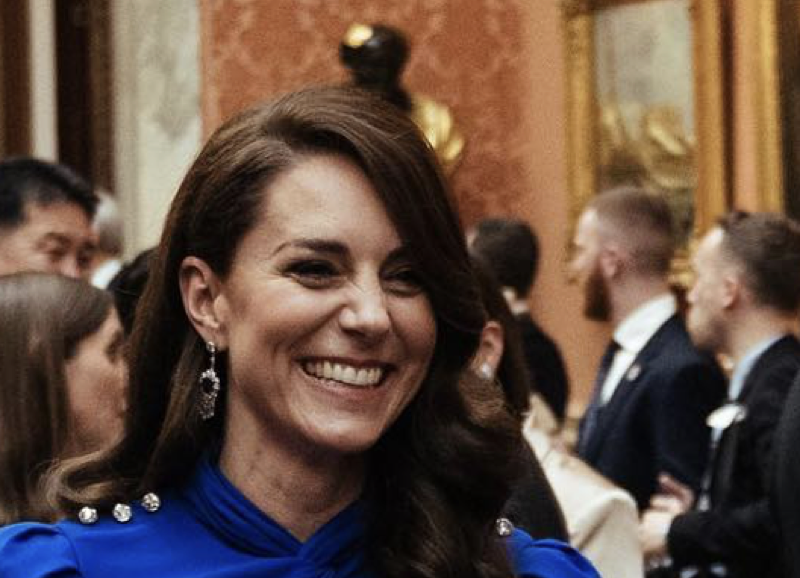 Royal Family News: Kate Middleton Dresses For Success
According to the Daily Mail, "Kate arrived in a formal blue cape with an ivory dress under it that was designed by Alexander McQueen."
"The dress was adorned with silver, floral embroidery that represented the four nations of the United Kingdom: roses for England; thistles for Scotland; shamrocks for Northern Ireland; and daffodils for Wales, which she was created princess of on September 9, 2022."
Kate Middleton is a great example of female regal dignity. I have no idea what kind of a person she is privately, but the way she presents herself publicly is pretty close to archetypal perfection.

Classic beauty and grace, exudes kindness and patience, emotionally controlled… https://t.co/3OgVYry7FW

— PhilosophiCat (@Philosophi_Cat) May 6, 2023
Royal Family News – Coronation Success
She also wore a white headpiece referred to as a floral crown, as well as "pearl and diamond earrings that belonged to Princess Diana … honoring her mother-in-law."
She also paid tribute to Queen Elizabeth with her necklace, the George VI Festoon Necklace, that features three strands of diamonds.
The outlet reported that "King George gave the gift to Queen Elizabeth when she was still a princess."
Kate's choice of a "flower crown" had been speculated on for days. It was not a Coachella daisy and pansy affair, it was a delicate concoction of dazzling crystals, and her daughter wore a similar headpiece, made by Jess Collett x Alexander McQueen. According to British Vogue "The crowns are made of silver bullion and crystal with three-dimensional leaf embroidery." It's not the first time that Kate has chosen a floral theme, as she wore the Cartier Halo tiara for her wedding, and has worn the Lotus Flower tiara, on several occasions.
Be sure to catch up on everything happening with the royal family. Come back here often for royal family news and updates.