90 Day Fiance Star Kris Foster Strongly Denies Drug Addiction
90 Day Fiance: The Other Way fans have been accusing Kris Foster of a lot of things including telling lies and drug addiction In fact, they love to side with Jeymi who looks younger and prettier. Well, Kris was not a fan favorite from the beginning. The woman from Alabama who wanted to marry a same-sex partner seemed a bit excentric, and she soon revealed a plethora of problems. This week, she responded to allegations of drug use. Despite saying she doesn't listen to fans, she sure had a lot to say about it in her denial.
90 Day Fiancé

Spoilers – The Other Way Fans Suspect Kris Foster

One thing about Kris, she stands out from the crowd. Certainly, she seems on the surface of it to be a bit different from the norm. Not in a bad way, but differences often attract attention. For a start, she stood out in her hometown because she wanted to leave the sleepy Bible-belt town and marry another woman in Colombia. Previously married twice, she already raised two teenage kids.

90 Day Fiance fans started to think that almost everything they learned about Kris was dodgy. From her narcolepsy to her painful neck, her stolen motorbike, and her job, everything was micro-inspected on social media. Especially on Reddit, where a lot of folks came to the conclusion that Kris Foster is a drug addict. In fact, many of them claim that she probably only wanted to be in Colombia for easy access to opioids. This week, she responded to the allegation.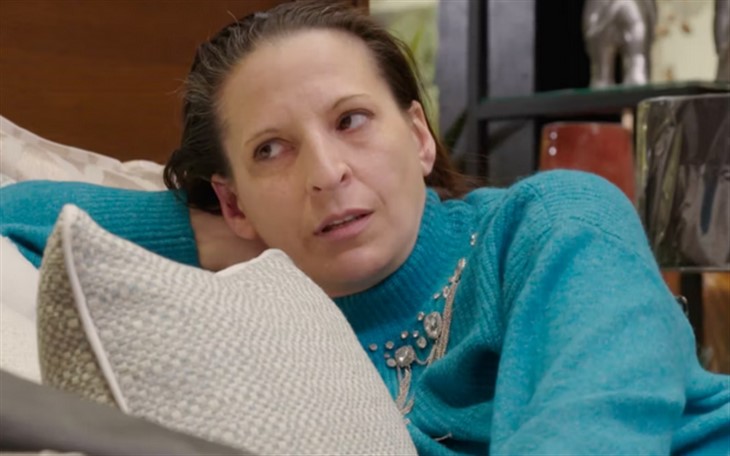 90 Day Fiancé

Spoilers -Kris Foster Gets Vocal About Allegations

Recently, Jeymi's ex took to her Instagram and shared a video about how she was busy getting ready for an event. In her caption, she said, "Decorating and getting this big meal ready to feed all these racers and military before the big race tomorrow!" Well, she looked dressed for action, and she seemed enthusiastic about the job. Anyway, in the comments, a follower asked her if she knows that folks are calling her a drug addict.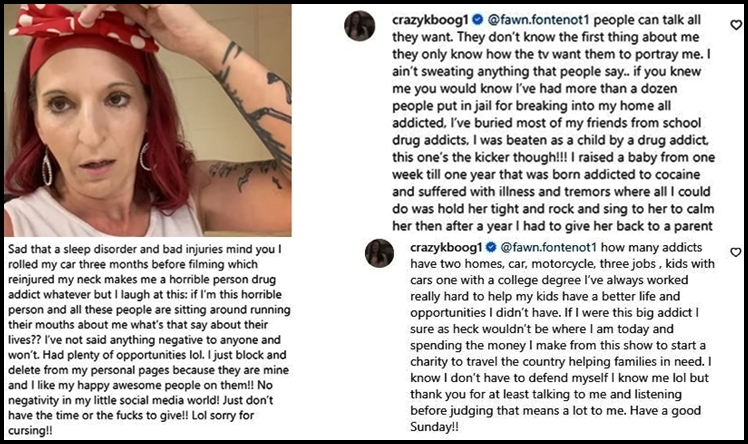 At first, the 90 Day Fiance star seemed to make out as if she doesn't care what people think. She said, "people can talk all they want. They don't know the first thing about me they only know how the tv want them to portray me. I ain't sweating anything that people say." However, she then launched into a series of long comments that seems to indicate that she actually feels the need to defend herself quite vigorously.
90 Day Fiancé Spoilers – Excerpts Of The Densive Rant
The 90 Day Fiance star wrote so much in her various comments and replies, that it's not possible to write everything here. However, some of her strongest arguments claimed some interesting points like this one:
how many addicts have two homes, car, motorcycle, three jobs , kids with cars one with a college degree. I've always worked really hard to help my kids have a better life and opportunities I didn't have. If I were this big addict I sure as heck wouldn't be where I am today and spending the money I make from this show to start a charity to travel the country helping families in need. I know I don't have to defend myself. I know me lol but thank you for at least talking to me and listening before judging that means a lot to me. Have a good Sunday!!"
What are your thoughts? Let us know in the comments below.
Be sure to catch up on everything happening with the TLC franchise right now. Come back here often for more 90 Day Fiance: The Other Way spoilers, news, and updates.