Why Did TLC Have The 90 Day Fiance Cast Go Easy On Kris Foster?
90 Day Fiance: The Other Way Season 4 star Kris Foster left a lot of fans questioning what it was about her that didn't sit easy. Many of them think that Kris had an easy ride of it with Shaun Robinson during the Reunion. But, did the host actually drop the ball? Or is TLC trying to steer clear of some sort of controversy? It was Debbie Aguero who started fans scratching their heads over why so many opportunities to ask more questions weren't taken.
90 Day Fiancé

Spoilers – The Other Way Season 4 – Kris Foster

Fans who tried to figure out where Kris was coming from gave up and decided that she might just be a drug addict who moved to Colombia for easy access to opioids. They figured that after she married Jeymi, she went back home because opioids were not as easy to get as she had believed. Well, Kris strongly denied any addiction and talked about how other addicts had impacted her over the years.

There were more things that got 90 Day Fiance: The Other Way fans wondering about Kris. For example, she suffered from a very painful neck and from narcolepsy so she couldn't work if it meant laboring hard. But she could dive into a swimming pool. Plus, she claimed that she couldn't find the time to contact Jeymi because was busy "doing heavy physical labor all day." But Shaun didn't pick up on a lot of her discrepancies.
90 Day Fiancé

Spoilers – Did Shaun Robinson Drop The Ball?

If you don't know, Yahoo carried a story about Debbie Aguero who claimed that the cast were told not to ask too many hard questions when it came to Kris Foster. Allegedly, it was because Kris was in "a fragile" state. But on Reddit, people wonder about that. Discussing all of the missed opportunities, u/IhavemyCat listed them.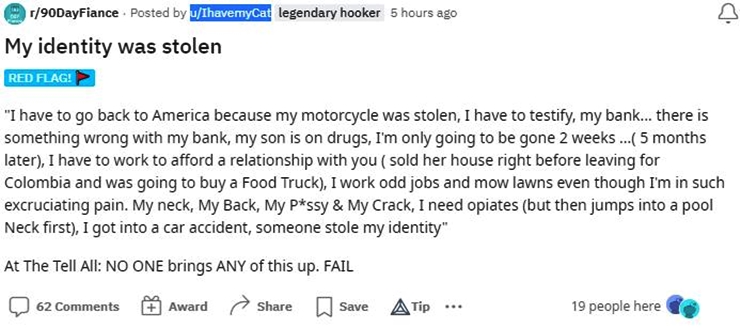 The list is long, but the 90 Day Fiance critic mentioned many excuses to go back Stateside. They included the stolen motorcycle, testifying, the bank issues, her son with drug issues, and more. It noted, "I have to work to afford a relationship with you ( sold her house right before leaving for Colombia and was going to buy a Food Truck). I work odd jobs and mow lawns even though I'm in such excruciating pain. My neck, My Back…I got into a car accident, someone stole my identity."
90 Day Fiancé

Spoilers – Why Did TLC Make The Cast Back Off?

90 Day Fiance fans seem even more convinced that something needs to be kept quiet with Kris Foster. Notably, there is no evidence of wrongdoing. But on Reddit, questions are being asked. One contributor said, "I believe that film crew had seen: experienced some different side of her that they cannot expose."

Do you believe that something like that could be the real truth about why the cast had to go easy on Kris? Were they concerned that ratings might fall if there is something behind the speculation? Perhaps fans will never know. But it will be interesting if she appears in other spinoffs in the future. Let us know your thoughts in the comments below.

Be sure to catch up on everything happening with the TLC franchise right now. Come back here often for more 90 Day Fiance: The Other Way spoilers, news, and updates.