The Young And The Restless: Is Diane Playing Jack For A Fool?
The Young and the Restless (Y&R) fans believe Diane Jenkins (Susan Walters) is playing Jack Abbott (Peter Bergman) for a fool. They're still convinced that she's up to something. Whether or not that has something to do with Jabot remains to be seen. Keep on reading to learn more.
The Young And The Restless – Is Diane Jenkins Messing With Jack Abbott?
The Young and the Restless spoilers seem to suggest that Diane Jenkins is messing with Jack Abbott. She's being the perfect woman at this moment. Ever since Diane returned to Genoa City, she asked Jack to forgive her for faking her death. She claimed that she doesn't want to have anything to do with Jabot, but that hasn't stopped her from calling the shots.
Jack respects Diane's opinion. He's even offered her a higher-up position. However, Diane claims that she's not after his money or company. She just wants to be married to him. However, some fans have reservations about the character and her intentions. This concern was brought up on the Y&R forums on Soaps.com.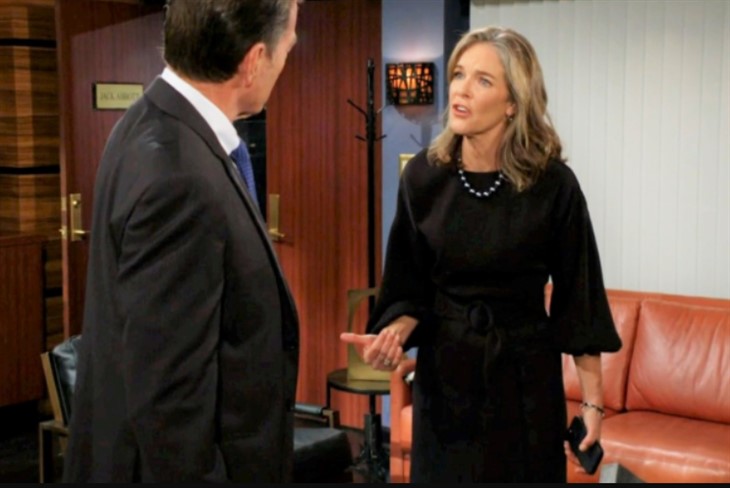 "I'm on the fence she seemed to be gloating to Phyllis one minute the next scared to death of Jeremy I'm confused at this point," the original poster noted on December 2022.
Fans took to the thread to speculate about Diane's endgame. Some don't believe that she's manipulating Jack. Others think she wants to be a wealthy housewife, which is her dream. Diane also wants her son Kyle Abbott (Michael Mealor) back in her life. Her ultimate goal is to have a happy marriage and family again.
Y&R Spoilers – Will Diane Jenkins And Jack Abbott's Relationship Crumble
Earlier this month, The Young and the Restless fans ruminated whether Jack and Diane's relationship will crumble. She's tried so hard to be so perfect for Jack so they could have a normal relationship again. Some fans wonder if their happy engagement could come crashing down around them.
"I can only hope her contract is up soon and not renewed. Then she can go out with a bang. I just don't like the idea of Jack being burned again. Although at this point, he deserves it," one fan wrote.
"If Jack and Diane break up, Jack will have NO upper lip from him then biting it all day every day," another noted.
What are your thoughts? Do you think Diane is manipulating Jack and playing him for a fool? Sound off below in the comment section.
As always, check back for more Y&R spoilers, news, and updates.