The Young And The Restless Spoilers: Audra And Tucker Play Bonnie & Clyde – Only Billy Can Defeat Them?
The Young and the Restless spoilers document that Audra Charles (Zuleyka Silver) had a somewhat surprising reconnection with Tucker McCall (Trevor St. John).
But his stated irreconcilable differences with his recent bride, Ashley Abbott McCall (Eileen Davidson), put Audra back on his radar.
A Bonnie and Clyde reference is a bit extreme because this pairing is not known to have committed the level of crimes that the infamous real-life villains did in the 1930s. But Audra and Tucker have broken many moral laws and likely some others that could be prosecutable.
The Young and the Restless Spoilers Highlights
Tucker and Audra agreed to restart their professional connection. That came after they reconnected personally.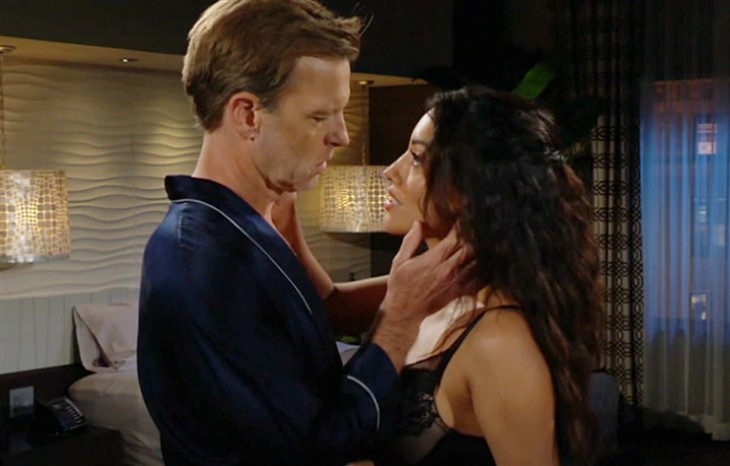 The former owner of McCall Industries told Audra that he and Ashley are seemingly done. That came days after they remarried, which took approximately a decade in real-time.
Audra was also able to learn that Tucker intends to steal Jabot. That may mean he is developing a scheme to complete a hostile takeover, which could mean he has intel about the company's current debt obligations.
Y&R Spoilers – Audra Charles More Loyal To Kyle Abbott?
Which man offers Audra the most opportunity, Tucker or Kyle Abbott (Michael Mealor)?
As of this point in the plot, it appears that Tucker may be at the top of her list. However, Kyle is someone that she seems genuinely drawn to.
Viewers also know that Kyle's brazen demeanor, which has emerged in response to Summer Newman Abbott (Allison Lanier) having betrayed his trust, includes a voluntary split from his family.
So, Audra throwing in with Tucker does not necessarily mean that Kyle would be opposed to him taking control of Jabot.
Kyle might land a prominent role with whatever that company would become if he were willing to betray the Abbotts.
The Young And The Restless Spoilers – Billy Abbott Has It Handled
Billy Abbott (Jason Thompson) told his brother, and sisters, Abby Newman Abbott (Melissa Ordway), and Diane Jenkins Abbott (Susan Walters) that he had a solution. Billy intends to further Tucker's belief that he and Jack are at odds.
While the gathered throng did not know whether Ashley's assumed predicament meant Tucker would be targeting the family or its business many, including Jack Abbott (Peter Bergman), assumed that would happen.
Jack believes Ashley's falling out with Tucker would result in her estranged husband holding him responsible. But Jack is leery of Billy putting himself in harm's way on Y&R.
This site is a leading source for everything linked to The Young and the Restless. Check back regularly for Y&R spoilers and news!