The Young And The Restless Spoilers: Summer Can't Deny Accusations – Kyle Ready To Separate?
The Young and the Restless spoilers document that Kyle Abbott (Michael Mealor) realized what happened. Summer Newman Abbott's (Allison Lanier) cover was lifted, and she has been badly exposed.
Phyllis Summers (Michelle Stafford) continues to create chaos. The damage she caused can not yet be fully measured. But the collateral damage Phyllis has caused includes Summer, whose marriage may be on the soapy rocks.
The Young and the Restless spoilers show Kyle feels trust was irreparably broken. Because of emotion, he can not see that Summer was caught in a no-win situation, had to defend Phyllis, and could not tell him that she was alive.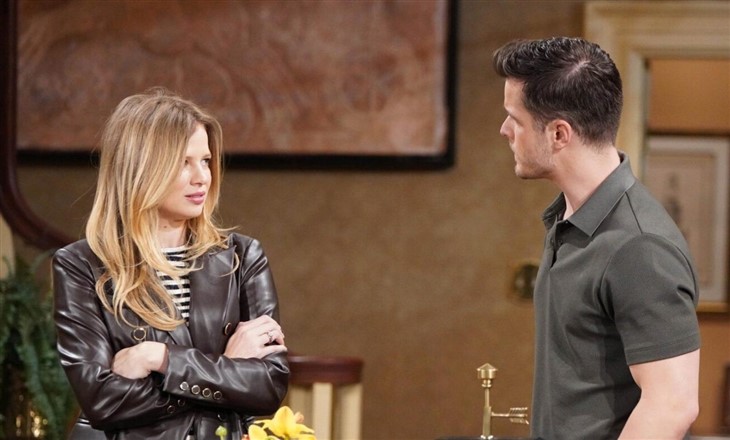 The Young And The Restless Spoilers – Timeline Markers Seen In Retrospect
Kyle did a lot of thinking after discovering that Summer was meeting with her mother and brother in a suite at the Genoa City Athletic Club. He realized that Summer was concealing the truth from him for a while.
Daniel Romalotti (Michael Graziadei) said that Phyllis contacted him, and he met with her in person. But Kyle recalled Daniel and Summer using some odd phrases, passing unusual glances, and their general demeanors when realizing that Summer, not Daniel, must have been the first person to become aware that Phyllis was alive.
Y&R Spoilers – Phyllis Summers Is Sorry
Yes, Phyllis is sorry. But Kyle pointed out to his mother-in-law's self-serving reasons for making that claim.
Kyle was outraged that Phyllis put her children through such grief and then turned them into accessories after the fact. She did the same to him when he entered the GCAC suite where Phyllis relocated to.
Being sorry does nothing to change what Diane Jenkins (Susan Walters) went through. She was arrested and charged with murder. Her stay in prison and home confinement with the ankle bracelet was unjust.
The Young And The Restless Spoilers – Summer Newman Abbott Is In Trouble
Kyle told his wife she had the power to secure his mother's release from jail but did nothing. However, Mealor's character is reacting impulsively and may later recognize that Summer is one of Phyllis' victims.
Jeremy Stark (James Hyde) is dead. But before Phyllis killed him in self-defense, he victimized Diane. Phyllis is right to compare what Jeremy did to Diane and her.
Kyle's belief that Summer can not fix what she did to Diane and him is an overreaction. But devoted fans know that Kyle and Summer's history includes many instances where blowups led to time apart on Y&R.
This site is a leading source for everything linked to The Young and the Restless. Check back regularly for Y&R spoilers and news!