The Bold And The Beautiful Spoilers: Runaway Sheila Seeks Shelter With Deacon, He Slams The Door In Her Face
The Bold and The Beautiful spoilers and updates tease that Sheila Carter (Kimberlin Brown) could escape again, and the first place she'd head would be Deacon Sharpe's (Sean Kanan) apartment. The only problem is even though he might feel sorry for her, he's not getting into that nine-toes mess again and he'll slam the door in her face!
The Bold And The Beautiful Spoilers – Deacon Sharpe Doesn't Want To Jeopardize His Dream
Deacon has made a successful businessman out of himself and since he's taken over Il Giardino, it's been a smashing success.
He's made his daughter, Hope Spencer (Annika Noelle) proud of him as well as his friends, and close friends who are like family. But doesn't Sheila realize that he was in on the FBI takedown with Bill Spencer (Don Diamont) and Ridge Forrester (Thorsten Kaye), although perhaps unwillingly?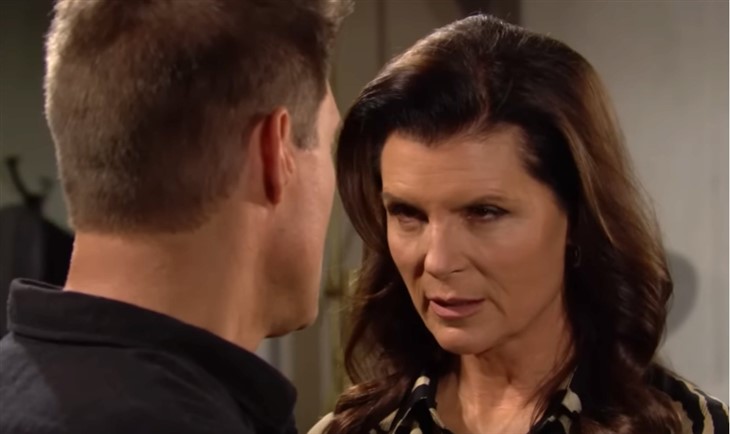 Deacon had been caught on camera just like she was although his place wasn't bugged, the FBI heard everything they said when Sheila called Deacon on her phone.
Deacon had to cooperate with the authorities and stall when Sheila was planning to come to his apartment fleeing Bill's-before that unexpected fall and subsequent heart attack.
B & B Spoilers – Deacon Sharpe Will Stay A Law Abiding Citizen
Deacon is determined to stay a law abiding citizen, knowing full well he was in danger of losing his probation and parole and going back to prison himself.
Sheila was a fugitive and while on probation and parole he wasn't supposed to have anything to do with her; should she escape again, they'll be surveilling him.
He could still be under surveillance by the FBI, for all he knows and can't even say hello-the best thing he can do is slam the door in her face. It's the same if she comes to Il Giardino after hours-he should call the police or FBI like any other concerned and law abiding citizen.
The Bold And The Beautiful Spoilers – Rejection Brings Retaliation?
Sheila gave Deacon a pass the last time, knowing he had no choice but to cooperate with the authorities, but that doesn't mean she'll give him a pass again.
Rejection this time could bring retaliation to Deacon, with Sheila possibly threatening his loved ones including his daughter Hope.
Sheila could even track down his twenty-two year old son with Becky Moore (Melissa Tait) and threaten Eric Sharpe (Field Cate) who most recently lived with his maternal grandparents.
However, Deacon likely would distract Sheila, perhaps lying to her and telling her to hide in the bathroom and feign an emergency at the restaurant.
Then he could lock her in and call the police and perhaps even lodge an additional complaint of her communicating threats!
Be sure to catch up on everything happening with B & B right now. Come back here often for The Bold and The Beautiful spoilers, news, and updates.