The Bold & The Beautiful Spoilers Wed August 16: Sheila Play Coy, Quinn Confronts Her – CJ Desperate For Money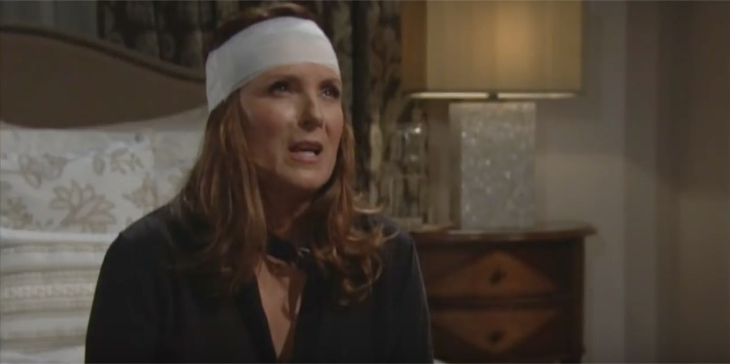 Wednesday on "The Bold & The Beautiful," spoilers reveal more drama and more fallout from the cat fight between Sheila Carter (Kimberlin Brown) and Quinn Forrester (Rena Sofer) is so far from being over. Eric Forrester (John McCook) is kind of stuck between a rock and a hard spot. Eric decided to forgive Quinn and trying to move forward. When Sheila got the news she was not quite as ready as Eric to cut ties.
After Sheila and Quinn had words, things got very physical, Sheila ended up unconscious, a gash on her head, and laying on the floor when Eric walk in. Once Sheila came to she quickly took advantage of Eric's concern and was sure to lay the gratitude (and guilt) on thick with Eric. Quinn very upset with Eric for being so accommodating with Sheila. Eric promises Quinn as soon as Sheila is better I will send her on her way.
"B&B" spoilers once again take us to Spectra Fashions with CJ (Mick Cain) claiming he needs money the money owed, or he will be forced to sell. Sally Spencer (Courtney Hope)jumps is quick to try to put out the fire, telling CJ "This is not the time to get off the Spectra train… sit back and ride it out." CJ pushed back a little prompting Sally to ask who are you selling to Bill Spencer? CJ did seem to be taken back by her questioning.
Quinn and the Forresters, except Eric, seem to have Sheila's number. They see her for who she is. Eric still seems to listen with his heart. Quinn once again trying to call Sheila out, asking "You think you are gonna replace me?" Sheila fires back without missing a beat "I was Mrs. Eric Forrester long before you." It is gonna be a while before that battle field is safe, and "The Bold & The Beautiful fans are loving it!
"The Bold and The Beautiful" airs weekdays on CBS. Be sure to check back with Celebrating the Soaps to catch all the news, updates, spoilers, and so much more!