Coronation Street Spoilers: Evelyn Ends Friendship With Roy Following Cerberus Death
Coronation Street spoilers, news, and updates tease that Evelyn Plummer (Dame Maureen Lipman) made good on her promise to end things with Roy Cropper (David Neilson) if something bad would happen to Cerberus. How will Roy convince Evelyn to forgive him? Fans saw Evelyn's dog, Cerberus, get put down as per the recommendation of her vet. Cerberus' kidneys have failed after eating an Eccles cake that fell on the floor in the café.
Cerberus fell ill and kept on throwing up after ingesting the cake. Evelyn rushed him to the vet, who performed various tests. She had no idea that her dog was unwell until Roy revealed what happened in the café.
After getting a call from the vet, Evelyn told Roy that she would never forgive him if Coronation Street something bad happened to Cerberus. She tried to be optimistic but unfortunately, the vet told her about Cerberus' condition and suggested that he be put down.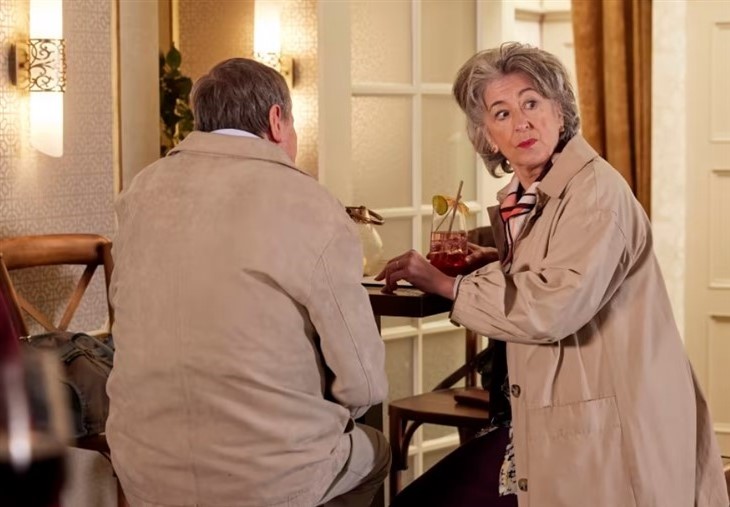 Evelyn stayed with Cerberus as the injection was administered. She took the death of her dog heavily and she held Roy responsible for it. The latter apologized to her but she's not in a forgiving mood, at least for now. What will Roy do to make amends?
Coronation Street Spoilers – Dame Maureen Lipman Opens Up About Potential Evelyn Plummer And Roy Cropper Love Story
Some fans have speculated that Evelyn and Roy may be involved in a love story. The actress shut down the rumors immediately and said that the pair's feelings are platonic only. "I don't think Evelyn has the hots for Roy, or him for her. It's lukewarm at best and I don't think she's going to get her vest off," she said.
"But there are many forms of love – they're lonely people. She had the chance for romance with Arthur and sort of blew it. I think the stable door is shut and the horse has bolted," she continued."She does want to spend time with him [as] Roy understands about grieving. He gets where she's coming from – [it] doesn't take much to bring her round because she knows where her bread's best buttered," she added.
Lipman said that she likes working with Neilson. She said that her character enjoys Roy's company. Fans will just have to wait and see when she'll be able to forgive him for the death of Cerberus.
Be sure to catch up on everything happening with Coronation Street right now. Come back here often for Coronation Street spoilers, news, and updates.