Coronation Street Spoilers: Sarah Almost Cheats On Adam With Damon
Coronation Street spoilers, news, and updates tease that Sarah Barlow (Tina O'Brien) almost cheated on her husband, Adam Barlow (Sam Robertson). with drug dealer Damon Hay (Ciaran Griffiths).
It all starts when Sarah shares her excitement with Nick Tilsley (Ben Price). over Adam's plans to spend a romantic evening in a fancy hotel. Later on, Nick learns that Adam is representing Damon, the person who's causing all of his problems right now.
Coronation Street Spoilers – Sarah Barlow Flirts With Damon Hay
Nick confronts Adam and Sarah also gives him a piece of her mind regarding his choice of the client. She tells him that he's dangerous. Her husband tries to defend herself by saying that he's just a client and nothing more. But she insisted that Nick is her brother so the issue is personal to her.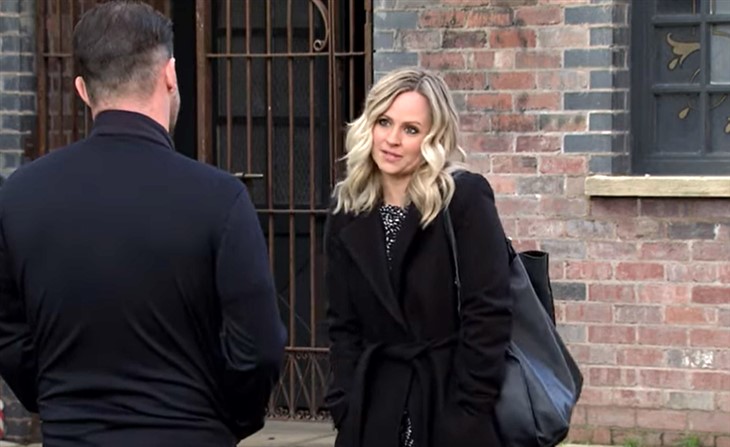 Adam's answers leave Sarah furious and she ends up going to the hotel alone. She had no idea what Damon looked like so she didn't recognize him when they started talking at the hotel bar.
Sarah started to confide in him about the romantic night that she was supposed to be having with her husband. She even mentioned that there was champagne and roses in the hotel room.
The pair started to flirt with one another and Damon suggested they go to Sarah's room and drink the champagne that was prepared for her. She invites him to her room but before anything happens, she decides to put a stop to it all.
She reads a note from Adam that says, "To the most wonderful mother and wife. I love you, Sarah." She starts to feel guilty and tells Damon that he better leave. But before heading out of the room, the latter wrote his phone number down in case she changes her mind.
Coronation Street Spoilers – Adam Barlow Finds Damon And Sarah Barlow At Hotel
Adam heads to the hotel to try to make up with Sarah. He comes across Damon and tells him that he can't take him as a client. Sarah appears and feels horrified after learning who Damon was.
Adam tells Damon that Sarah is Nick's sister and best if they go their separate ways given the circumstances. Sarah asked Damon if he was the person who had been tormenting her brother. Meanwhile, Damon tells Sarah that she's the reason why Adam won't represent him.
Sarah answers that Adam can represent whoever he wants, even Damon. So her husband retracts his decision and accepts Damon's case.
Later on, Sarah calls Damon's number and arranges for a meeting. She warns him off and says that she doesn't want anything to do with him. The latter didn't say anything. He just smiled, hinting that this may not be the last time fans will see them together. Some fans even think that they may have a steamy affair and she may even get pregnant with his child.
Be sure to catch up on everything happening with Coronation Street right now. Come back here often for Coronation Street spoilers, news, and updates.