Coronation Street Spoilers: Vicky May Have A Hidden Agenda As She Tries To Befriend Amy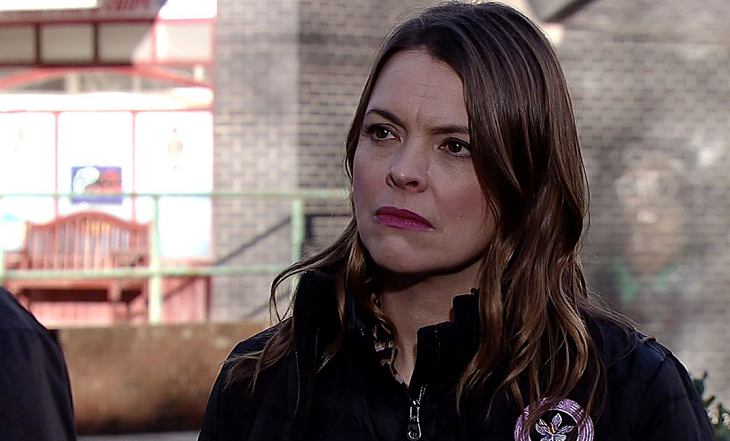 On "Coronation Street," Steve and Tracy's threats did not work, as Vicky Jeffries is back on the cobbles once again. Despite the couple's best efforts to keep her away, Vicky just can't seem to stay away from Amy and even tries to befriend her. What does she want? What's her agenda?
Steve and Tracy tried to keep their daughter and her unborn child away from Tyler and his family. They lied and threatened them just to prevent them from getting involved in the pregnancy, but nothing worked. They even thought of leaving the cobbles and starting a new life somewhere else.
Coronation Street – Steve and Tracy Continue To Lie
Amy's parents lied to Vicky, Tyler's mom, and told her that she terminated the pregnancy. Their lie didn't last that long since Vicky went to see Amy and confronted her about the abortion. The teen mom immediately cleared things up, which infuriated Vicky.
The couple were embarrassed when they were caught lying so they resorted to threats. They used intimidation and bribery to dash Vicky and Tyler's hopes of being part of Amy's pregnancy and also to make sure that their adoption plans won't be derailed.
They threatened to report Tyler to the police for raping their daughter if he and Vicky won't stay away. Tyler broke the law when he had sex with a minor since Amy is only 14 years old. Tracy even bribes Tyler £5,000 just to leave her daughter alone.
Coronation Street – Nothing Is Going To Stop Vicky
But all that didn't prevent Vicky from coming back. She gets friendly with Amy and gives her advice on how to deal with morning sickness. She even offers to "come over later" to give her the recipe. She claims that Tyler is showing remorse for his actions and wants nothing else but to be part of the baby's life and be a good father.
TONIGHT at 7.30pm: Only one episode this evening – but what an episode! 😉

Kate arrives home to discover that Rana has got a little carried away with their wedding invites… How will they sort this mess out?#Corrie #Kana #Kate #Rana #Johnny pic.twitter.com/HKilowh3O7

— Coronation Street (@itvcorrie) February 20, 2019
Does Vicky genuinely want to be part of Amy's life or does she have an ulterior motive? Will Steve and Stacy finally give up or will they do good on their promise and report Tyler to the police?
And visit Celebrating The Soaps dedicated Coronation Street page for all the latest news, interviews and spoilers