Jason Momoa Gets Fans Zooming In On His Bare Butt
Jason Momoa, best known for "Aquaman" is also known to look good enough to eat. However, it's not that often that fans get an opportunity to zoom in on his bare butt. This week, the "Justice League" star promoted his Hawaiian clothing line on Instagram to the delight of his many fans.
Jason Momoa – Fans Love The Hot Hawaiian Outfit
Jason isn't really a comedian but he does get fans laughing on social media. Actually, it seemed very interesting to learn that he and John Cena would work together in "Killer Vacation."
That news arrived in December last year, and further plot details still await unveiling. Still, he is an actor that likes to get into his roles, so maybe his swaggering bare-butted gait was some sort of practice for a movie.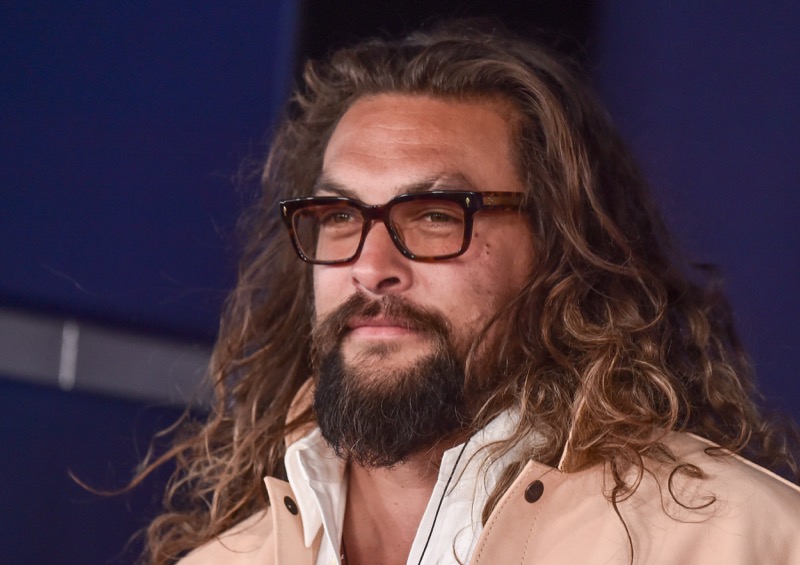 Jason Momoa loves cars and bikes, and last year, for a heart-stopping moment, "Aquaman" fans feared he might have had an accident on a bike. Fortunately, he didn't have an accident on his bike, and he managed to survive a head-on collision in his car. Incidentally, the other vehicle was a bike and the rider didn't even hurt himself. Both of them lived to see another day and in Jason's case, reveal his buns to the world of social media.
Jason Momoa – Fans Zoom In On Clothing Promo
On March 9, the hunky actor posted up a video on his Instagram and revealed some of the clothing lines in stock. He ended up wearing a "lavender" tee-shirt and flip-flops and little else. Well, he did also wear a Hawaiian malo. If you don't know, it's a type of loincloth that was historically made from the bark of a tree.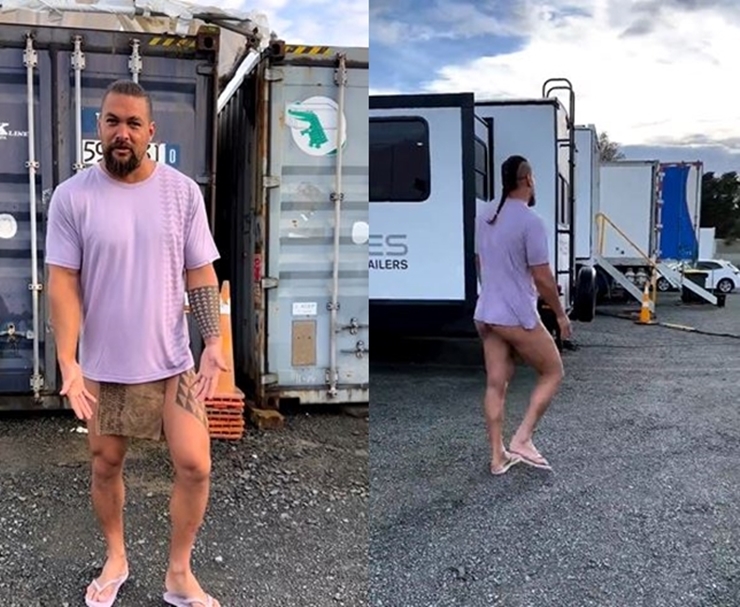 Jason Momoa said in his caption, "Tees to match the shoes. Unity Purple and Yaya Lavender Nakoa Tees + Kanakas are LIVE. Packaged and shipped plastic free." Well, not everyone showed a lot of interest in the Tees, because they spotted his bare butt. But part of the malo was held up like a thong. So, folks zoomed in for a closer look.
Jason Momoa – Bare Butt Inspection
Jason Momoa fans immediately wondered what was between his cheeks. One follower wrote, "What's stuck in the back end? I'm not complaining, just zooming in ." Naturally, others who were dying to know the same thing joined in the comments.
Here's a small sample of other comments from those who enjoyed the video:
there was def a lil critter in his butt crack.

Did he tuck the strap of that tiny piece of cloth in there ?

I thought it was his ball sack stuck up his booty .

I'm hoping that was the string to his front flap thingy.

As a medical professional I legit was blowing this up trying to figure it out…‍♀️
One thing that stood out though, nobody was complaining about the way they were schooled in an appreciation for Hawaiian culture.
Be sure to catch up on everything happening in the world of entertainment right now. Come back here often for all the Jason Momoa news, and updates.
Editorial credit: DFree / Shutterstock.com