Coronation Street Spoilers: Hope Stape Dives Into Sinister Plans Again
Coronation Street spoilers, news, and updates tease that Hope is up to her frightening side again involving her sister, Ruby.
Hope is one of the most popular young stars in the soap and is known for her alarming role as she will do anything just to express her anger.
The young woman once set fire to the apartment above the salon in hopes to get rid of her stepdad's love interest, Alina. She also got to hijack and destroy Phill's Audi windscreen when she knew the truth about him.
Moreover, she turned too villainous when she bit herself with a stuffed weasel to take revenge against Beth's dog.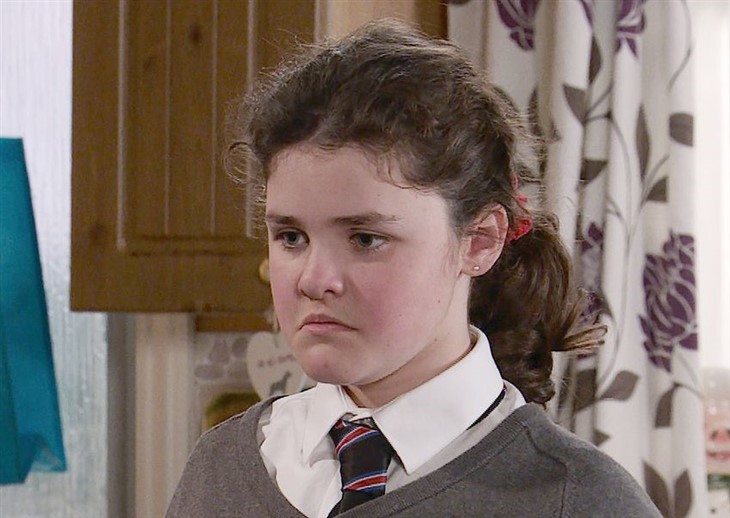 In the previous episode of the longest-running soap, Hope turned an event ablaze when her jealousy of Eliza and Sam's closeness irritated her more.
The two teenage women had a previous misunderstanding when Hope showed undesirable behavior towards Eliza.
Coronation Street Spoilers – Hope Stape Fires Her Anger Again
As a result, Eliza was forced to move to Weatherfield High to get rid of the bullying. However, the idea didn't make Hope happy when the transferee got a close bond with her best friend, Sam. One day, Tyrone approached his stepdaughter and told her to help Eliza for her upcoming birthday.
Planning to ruin the event, Hope convinced her to hire a disco limo in hopes her guy friends lose their interest in the event.
However, she failed her plan when Sam and Roy prepared a science display to entertain the guests. As a result, the villainous teen started a fire causing the experiment burst into flames.
Once again, she ended up disappointed when Yasmeen immediately grabbed the fire extinguisher to stop it from spreading.
Coronation Street Spoilers – Hope Stape And Her Sister Ruby Fight For An Important Role
In the upcoming scenes of "Coronation Street," the popular teen goes against her sister Ruby as they both want the same role for the upcoming Little Big Shotz.
Wanting to have the lead role so badly, Hope prepares for her performances and often practices her solo in front of Ruby.
However, the young woman is stunned when her sister outshines her and gets the lead part. As she fails to have the role, Hope is set to be one of Ruby's backup singers alongside Eliza.
When everyone applauds for Ruby, the young villain is seething under her breath.
Will Hope plan to sabotage her sister? Or will she eventually be proud of her?
Be sure to catch up on everything happening with Coronation Street right now. Come back here often for Coronation Street spoilers, news, and updates.