Coronation Street Spoilers: Eric Threatens Amy Barlow With A Lawsuit
Coronation Street spoilers, news, and updates tease that Eric Sandford (Craig Cheetham) will threaten Amy Barlow with a lawsuit. However, there's a way to avoid facing a legal case and that's if she decides to delete the blog post she made about Aaron Sandford (James Craven).
As the storyline progresses, tensions rise when Amy grows concerned about Aaron's rekindled relationship with his ex-girlfriend, Mia. Amy, hoping to keep Mia at bay, decides to confide in her about Aaron's past actions of rape. However, Mia responds with hostility, cruelly accusing Amy of fabricating the entire story.
Upon confronting Aaron about Amy's revelation, Mia is met with a concocted version of events from him. Believing his lies, Mia goes on to accuse Amy of unfairly smearing Aaron's name. However, things take a dark turn when DS Swain pays a visit to the Barlow residence, revealing that a serious accusation of harassment has been made against Amy.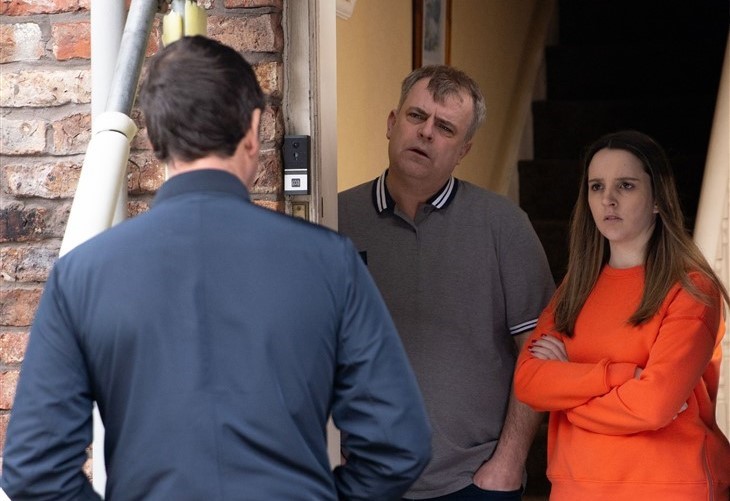 Amy feels disappointed and decides to put her harrowing experience in the past few weeks into writing. Steve McDonald (Simon Gregson) encourages her daughter to share what she wrote and Amy ends up posting it online. Eric becomes furious when he learns about what Amy did. He comes up with a plan and visits Number 1 where he threatens her with a lawsuit over her rape allegation unless she takes down her post.
Steve wants Amy to stand her ground but Dee-Dee Bailey (Channique Sterling-Brown) explained that going through a libel case will cost them a fortune. But Tracy Barlow (Amy Barlow) supports Steve's advice and promises they'll be there to support her all the way.
Coronation Street Spoilers – Elle Mulvaney Opens Up About Amy's Decision
Elle Mulvaney, the actress who plays the role of Amy Barlow, opens up about her character's decision.
"Amy didn't even think about the consequences when she put it online, she just wanted everyone to know," the actress said.
"And as far as she was aware, Eric was nowhere to be seen. Eric had been off in rehab, he was the last of her thoughts but then he comes back into the picture and he is a nasty man. He basically just rocks up at the house and says a letter will be delivered. He instantly bags his son and tells them he's going to sue for everything they've got," she added.
Be sure to catch up on everything happening with Coronation Street right now. Come back here often for Coronation Street spoilers, news, and updates.