Dancing With The Stars Host Alfonso Ribeiro's Daughter, 4, Suffers 'Frightening' Accident!
Dancing With The Stars (DWTS) co-host Alfonso Ribeiro and his wife Angela love their 4-year-old daughter Ava. And they suffered with the little girl when she experienced a scary accident. Because of the resulting injuries, Ava even needed surgery.
Find out what the DWTS co-host and his wife revealed about their daughter. And learn the latest updates on Ava. Get all the details below.
Dancing With The Stars Host's Daughter Suffers Injury
Alfonso Ribeiro, who co-hosts Dancing With The Stars, and his wife Angela recently shared details of their daughter Ava's terrifying accident. And the couple revealed that the 4-year-old fell off her scooter. As a result, Alfonso's daughter needed emergency surgery, according to People.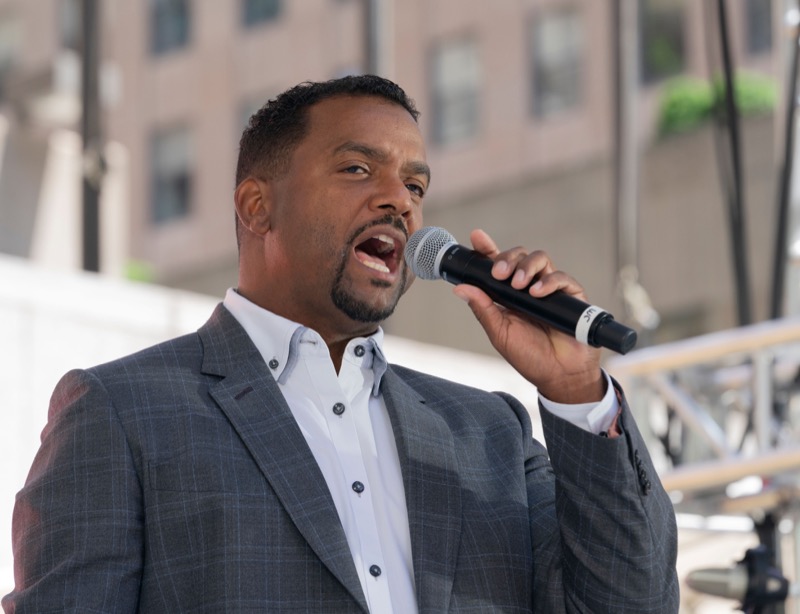 But Angela sought to look at Ava's recovery rather than the scary accident. And she turned to Instagram to reveal that her daughter has begun "doing better and better each day." As a result, Angela describes Ava as a "trooper." However, photos showed Ava with injuries on both her arms and her face.
And Ribeiro, 51, noted that the 4-year-old needs to recover after the accident and surgery. "She had to have surgery the day before [her birthday]," revealed the Dancing With The Stars co-host. And he shared that his daughter also suffered "road rash," describing it as "pretty frightening."
DWTS Host Alfonso Ribeiro's 4-Year-Old Needed 'Emergency Surgery'
However, the doting dad also praised his daughter. And he shared a precious photo of little Ava at her birthday party, given with a Tangled theme. Because Ribeiro took pride in the 4-year-old's resilient attitude, he described her as "such a trooper."
But the Dancing With The Stars co-host admitted that going through the accident and required surgery proved stressful for the entire family. And he discussed what happened during a recent appearance on the talk show Live with Kelly and Mark. "On Thursday, unfortunately, my daughter got injured," recalled Ribeiro. And she needed "emergency surgery," he shared with Kelly Ripa and Mark Consuelos.
Alfonso Ribeiro's Wife Posts Update on Daughter After Scooter Accident https://t.co/KakcKUAyqr

— E! News (@enews) May 22, 2023
"So it was a very stressful weekend. She fell and had basically road rash on her face and arm," explained Ribeiro. "And so they had to scalpel off all the skin." But on Instagram, the DWTS host focused on his pride in his daughter.
Alfonso Ribeiro Thanks His 'Hero' Wife
And Ribeiro wrote about it in his birthday post to his little girl. "Happy Birthday to my sweet Ava Sue," began the Dancing With The Stars host. "As some of you know, Ava had a very difficult week. I'm so proud of how well she handled everything. She's so brave, strong and creative. I love everything about my little girl."
However, Ribeiro also took time to express appreciation to his wife Angela. And he described himself as "forever grateful to @mrsangelaribeiro1 for being so amazing during this time. Long nights with a little girl in pain and having to apply medication every few hours. My two heroes." Ribeiro and his wife co-parent Ava and sons Anders Reyn, 8, and Alfonso Lincoln, 9. The Fresh Prince of Bel-Air alum also parents 20-year-old daughter Sienna from a previous relationship.
Tell us what you think. How do you feel about the DWTS host revealing the scary details of his daughter's accident and surgery? And after you share your views, check back on our site for more Dancing With The Stars news.
Editorial credit: lev radin / Shutterstock.com