Days Of Our Lives Spoilers: Vivian Is Out For Gabi's Blood!
Days of Our Lives spoilers tease that Stefan DiMera (Brandon Barash) and Gabi Hernandez (Camilla Banus) have finally remarried.
Viewers may recall that Stefan and Gabi were married four years ago when Stefan was apparently killed by police officer Lani Grant (Sal Stowers).
Brandon jumped in front of a bullet meant for his mother, Vivian Alamaine (Louise Sorel) who was fleeing from the police for her many crimes.
Days Of Our Lives Spoilers – Vivian Alamaine Was A Fugitive For Years!
Vivian managed to escape custody when Stefan was shot and was away from Salem for years. Ivan Marais (Ivan G'vera), was Vivian's loyal servant for years, and he kidnapped Lani's twins shortly after they were born and gave them to Vivian to raise.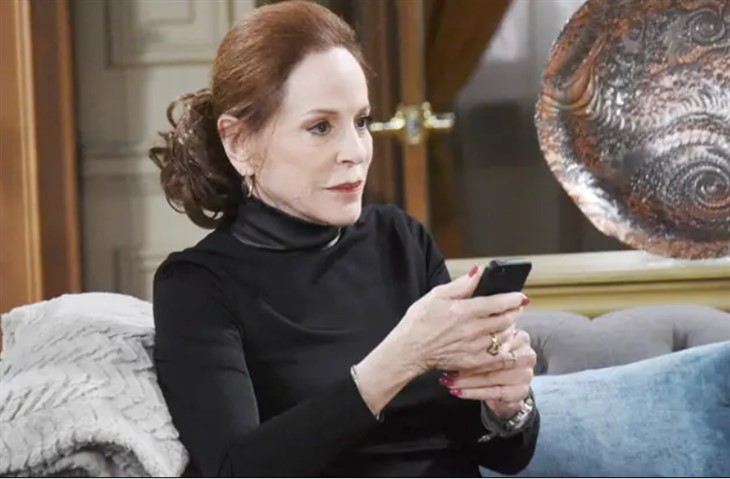 Lani and Eli Grant (Lamon Archey) eventually caught up to them and Vivian was finally jailed. Last year, Stefan was finally revived even though he was brainwashed into forgetting his love for Gabi!
DOOL Spoilers – Vivian Alamaine Reluctantly Helped Stefan DiMera!
Stefan received a collect call from the prison while he was being held captive inside the secret room at DiMera mansion.
Stefan begged his mother to let someone know that he was being held captive but Vivian wasn't happy with her son. Apparently in the months since his resurrection he didn't come to the prison to see his mother even once.
Although Vivian chose to help Stefan right then, it was clear there was unfinished business between mother and son! Vivian is apparently still in prison, although it is possible she has been released.
Days Of Our Lives Spoilers – Vivian Alamaine Will Want To Punish Her Son!
According to DOOL spoilers, Vivian will likely soon be out of prison. It's possible that she has something to do with Victor's death as well since he constantly refused her affections.
But she will certainly want to get back at Stefan for ignoring her and pursuing Gabi. To that end, she may decide to take Gabi away from Stefan.
She normally likes to bury her enemies alive, but this time she may simply cause Gabi to vanish, leaving Stefan to wonder whether or not his wife is even alive.
Vivian would then have her ultimate revenge although Stefan woould never let her back in his life.
DOOL Spoilers – What Do You Think?
Is Vivian still in prison? Does she want revenge against Stefan for ignoring her? Will Gabi pay the price for Stefan's treatment of Vivian?
Anything can happen in Salem so stay tuned to Days of Our Lives streaming every weekday on Peacock. And don't forget to check back right here regularly for all your Days of Our Lives news, information and spoilers!