General Hospital Spoilers: Anna Shares What She Knows, Could Pikeman Be After Both Her And Sonny?
General Hospital spoilers and updates tease Anna Devane (Finola Hughes) shares what she knows-could it be Pikeman who's after both her and Sonny Corinthos (Maurice Benard)? It makes sense that rogue WSB agents could have joined the mercenary group; that would explain the rifle from the WSB arsenal used by the Metro Court Pool sniper.
General Hospital Spoilers – Anna Devane Promised To Keep Dante Falconeri In The Loop
Anna promised to keep Dante Falconeri (Dominic Zamprogna) in the loop, and now she is-it may not be something Sonny wants his son to know, but he's done business with Pikeman.
As a matter of fact, he was warned before the sniper attack-don't connect with any new person claiming to be from Pikeman, stick with his original contact.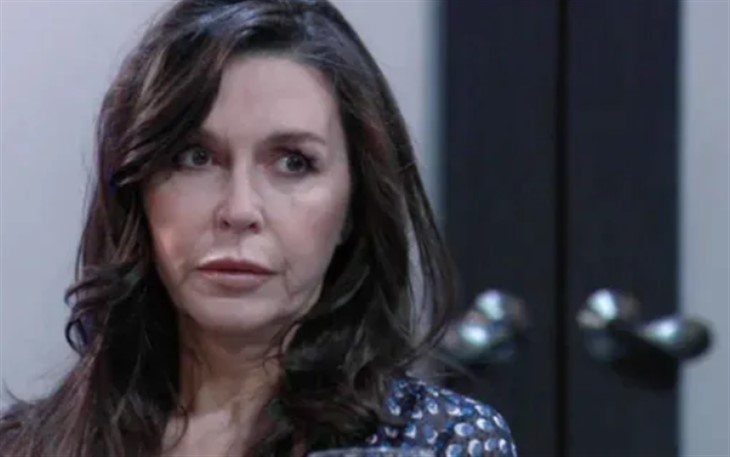 Surprisingly, or perhaps not so surprisingly, the very next day the attack at the Metro Court Pool happened, with the sniper's weapon being traced to the WSB arsenal.
Sonny and Anna and Dante brainstorm again since the sniper has still not been identified and caught; Sonny mentions the warning he was given. There has to be some kind of a connection and Anna has a light bulb moment.
GH Spoilers – Anna Devane Tells Dante Falconeri And Sonny Corinthos What She Knows
Anna tells Dante and Sonny what she knows about Pikeman, and they are an extremely dangerous group of mercenaries. They cannot be trusted because they have no loyalty to anyone, not to their leader, the fictitiously named Pikeman, not to their customers or even amongst themselves.
Someone knew something for Sonny to have gotten that warning the very day before the attack-which was the same day Anna's door was spray painted blood red with the word "murderer".
With all that has happened since, she reconsiders that possibly someone was leaving a warning, or in mob-speak, a "message".
General Hospital Spoilers – Could Sonny Corinthos And Anna Devane Have A Common Enemy?
The three discuss whether Sonny and Anna could have a common enemy who was trying to shoot at them both; luckily they were both able to dodge the bullets.
Anna has the opinion that Pikeman, which could have rogue WSB agents among them loyal to Victor, could be the ones behind the attack. She wouldn't be surprised if it was a Pikeman associate who tried to shoot Sonny at the warehouse attack earlier.
Dante is just learning the details about the attack at the warehouse although she knew Dex Heller (Evan Hofer) had taken the bullet. But he has to know everything if he's to help Anna and Sonny figure out and take down their enemy.
Be sure to catch up on everything happening with GH right now. Come back here often for General Hospital spoilers, news, and updates.