General Hospital Spoilers: Desperate Ava Needs Nina's Help
General Hospital (GH) spoilers imply some major stunners on the horizon in Port Charles. As the only one who knows about Nina Reeves's (Cynthia Watros) SEC secret, Ava Jerome (Maura West) could potentially use this knowledge to blackmail her friend, if she needed to.
While Nikolas Cassadine (Adam Huss) remains in an unknown location, if Ava was desperate and needed help, she may decide to hold Nina's secret over her head, to get her to do what she wants.
General Hospital Spoilers – If Her Daughter's Safety Is At Risk, Ava Jerome Would Cross A Line
GH spoilers for the week of May 29th imply that Ava will get completely caught off guard by something (or someone). Either Nikolas comes back in the flesh to surprise her, or Mason Gatlin (Nathanyeal Grey) returns to the picture. Either scenario could mean trouble for Ms. Jerome. Either man may ask her to do something she can't pull off on her own; she may not even be able to get a hand from Austin Gatlin-Holt (Roger Howarth).
According to General Hospital spoilers, Either Nik or Mason may threaten Avery Corinthos (Ava and Grace Scarola); the last time that happened, Ava got so desperate to protect her daughter, she ended up *almost* killing Nik.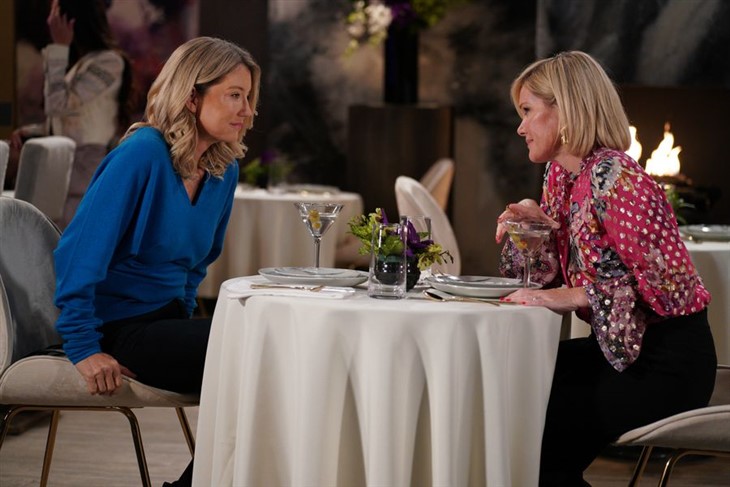 Jerome may need Nina's help, but whatever Nik or Mason asks for could be illegal. The last thing Nina would want to do is to dive into anything that could get her in trouble. She's got a magazine to run, and people that depend on her, plus, she wouldn't want to disappoint Sonny Corinthos (Maurice Benard) by getting caught up in Ava's drama. This is when Jerome would blackmail her into doing it because of the insider trading secret she has over her.
GH Spoilers – Who Else Would Rat Nina Reeves Out?
The only other person who knows about Nina's dirty little secret is Martin Grey (Michael E. Knight); however, he's bound by client confidentiality to spill the beans. At the end of the day, Ava might be Nina's downfall, and likely the worst decision she ever made was not only tipping SEC but telling Ms. Jerome about it.
Will Ava hold Nina's secret over her head? Chime in on this storyline, below. Catch the ABC soap daily so as not to miss a moment of the drama and visit this site regularly for the most recent General Hospital updates, news, and spoilers.