General Hospital Spoilers: Gladys Exposes Selina As Traitor?
General Hospital spoilers and updates tease Selina Wu's (Lydia Look) spy job on Sonny Corinthos (Maurice Benard) for Gladys Corbin (Bonnie Burroughs) could backfire. Instead of exposing juicy Corinthos mob jobs to Selina, she could wind up exposing Selina as a traitor to Sonny!
General Hospital Spoilers – Dex Heller Didn't Trust Selina Wu
After the sniper in the warehouse business, Dex Heller (Evan Hofer) didn't trust Selina and wasn't sure whether she sent him, because she owns the Highsider's Bar.
The only clue to the sniper's identity was a matchbook in his pocket that came from there, the same bar the late Oz Haggerty (Max Faugno) once worked at.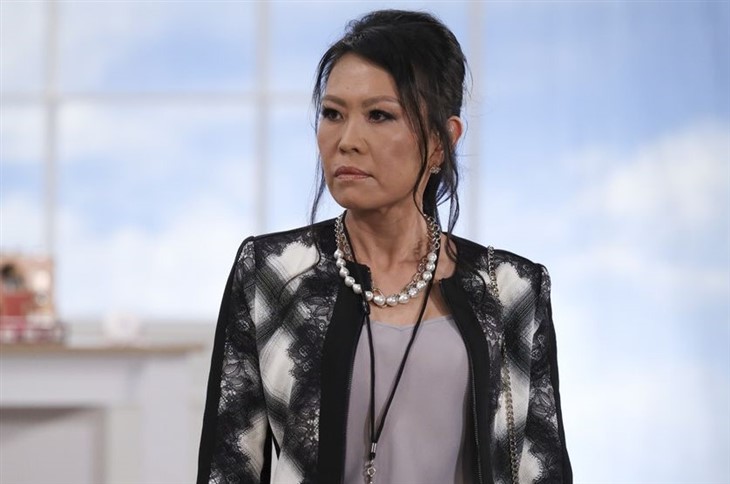 According to General Hospital spoilers, Selina was able to prove, at least to Sonny, that she wasn't the one who sent the sniper, but she could have just thrown him off the trail.
On the other hand, it was Selina who saved Carly Spencer (Laura Wright) and Jason Morgan's (Steve Burton) lives at their wedding, blowing up the rival mobsters' limo.
Jason and Carly would have been blown to bits if she hadn't switched limos -but it could have been part of a long range plan, down to only one rival family-Sonny's.
GH Spoilers – Backed Into A Corner
Now that Gladys has backed herself into a financial corner owing Selina $85,000 in gambling losses, Selina made a deal for her to spy on Sonny and report back. But Gladys' idea of good intel might not be the same as Selina's and she might still have to dip into Sasha Gilmore's (Sofia Mattsson) assets even more.
She already sold Brando Corbin's (Johnny Wactor) garage at a loss to Selina, and Sonny knew about that one-Sasha actually wasn't ready to sell.
He's seen Gladys with Selina here and there more than one time, and he's bound to become suspicious as to why, although it should be pretty easy to figure out.
He bailed out Mike Corbin (Max Gail) from gambling debts many times over the years, only with Mike it was horses and Gladys it's poker.
General Hospital Spoilers – Put A Bug In Gladys Corbin's Phone?
With Gladys all of a sudden wanting to see Sonny a lot more than usual and him knowing she's into something with Selina, it wouldn't be difficult to distract her.
He'd only have to distract her long enough to bug her phone, which Selina might recognize if she had the phone, but Gladys wouldn't.
Gladys could get some revealing information about Selina and her plans simply by having conversations of the intel she's supposed to get on Sonny and Sonny hear it all!
Selina's not going to be stupid enough to reveal her whole plans but just knowing she's using Gladys to get information on him will tip him off. Selina might find herself at a disadvantage, with Sonny closing in on her with his enforcers!
Be sure to catch up on everything happening with GH right now. Come back here often for General Hospital spoilers, news, and updates.