General Hospital Spoilers: Nina Considers Telling Sonny The Truth — And Ava Stops Her
General Hospital spoilers claim Nina Reeves (Cynthia Watros) wants to tell Sonny Corinthos (Maurice Benard) the truth. She turned Carly Spencer (Laura Wright) and Drew Cain (Cameron Mathison) into the SEC. She wanted Carly to pay for one of her transgressions. Just one. Just something to stem the pain of feeling like she constantly got the short end of the stick while no one ever held Carly accountable.
That's reasonable, right? Nina is only human. Can she really be expected to get it right all the time? Nah, but some might settle for half. One thing's for sure. Sonny isn't going to settle for her excuses painted as emotional explanations for why she tried to throw the mother of his children into prison.
General Hospital Spoilers — Nina Reeves's Guilty Conscience Is Eating Her Up Inside
General Hospital spoilers show Nina can't stand the thought of marrying Sonny with this weighing on her mind. She's as guilty as the day is long and living every day just waiting for someone to find out if driving her mad. The only way she can relieve her guilty conscience is to come clean, but she knows that Carly would call her out for telling the truth only to serve her own selfish feelings. Besides, there's nothing that can be done now by admitting to having turned her and Drew in. Nina can't take it back or put their insider trading secret back in the bottle. So what's the point of telling the truth now? Why not ride it out and hope that no one ever learns what she did? That's just what Ava is going to propose.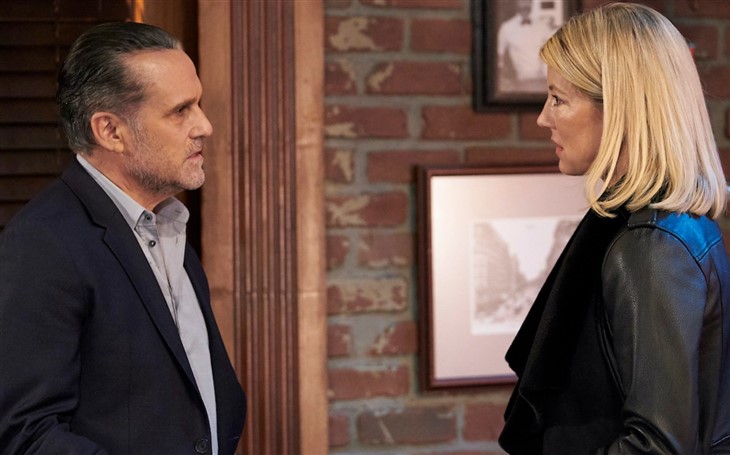 GH Spoilers – Hint Ava
Jerome

Says, "Hold Up!"

When Nina tells Ava how much she is struggling with holding this secret in and lying to Sonny, it's going to be quite clear that she is once again traveling down the wrong path — in Ava's opinion anyway. There is no redeeming herself. That's what Nina fails to see. She's not going to get a participation trophy for telling Sonny the truth — after she went and did him dirty. He'll crucify her just the same if she tells him herself versus if he finds out. So waiting and praying he never does is definitely the wisest approach, and Ava will just pray that Nina is also wise enough to listen to her this time around. Ava really knows her way around this family and what to expect of them.
General Hospital Spoilers — Nina Reeves Keeps Her Lips Sealed
Nina is going to bite her tongue and bury her guilt, at least for a little while longer. She doesn't know if she can really go through with marrying Sonny while knowing what she's done. What would become of that marriage if he found out later? Why would he though? To be fair, the likelihood of anyone learning Nina is the rat is diminishing with each passing day. Eventually, this will all fade to the black and be a part of their past, right? Perhaps, but only if Carly doesn't end up paying for her crimes — which will still burn Nina up inside. It seems no matter what, this woman can't win. Stay tuned for more GH news and spoilers just ahead to see how it all pans out.