General Hospital Spoilers: Nina Is Playing With Fire And Thinks Her Man Doesn't Know
General Hospital spoilers tease that Nina Reeves (Cynthia Watros) is at serious risk of making herself look like a fool once again. She should be on her best behavior right now given all that is going on with her daughter, Willow Tait (Katelyn MacMullen). However, she just can't shake the feeling that Carly Spencer (Laura Wright) is hiding something, and Nina is dying to know why. Clearly, Carly and Drew Cain (Cameron Mathison) have become involved.
So why are they hiding it from the whole world? As Nina ponders the potential reasons Carly and Drew might be keeping a low profile, she could make all the wrong assumptions and make a disaster out of her relationship with Sonny Corinthos (Maurice Benard) in the process.
General Hospital Spoilers — Drew Cain Is More Than Carly Spencer's Friend
It's quite obvious to anyone who is around Carly and Drew that they are involved in some capacity that is more than mere friendship. Drew flocked to Florida after Carly fled Port Charles, and he spent a considerable amount of time there with her — more than any friend normally would take away from their own life.
General Hospital spoilers show Sam McCall (Kelly Monaco) was onto the pair right away, but has also been waiting for them to announce their official status publicly before she puts them on the spot again. Nina has noticed Sonny doesn't seem concerned with Carly's clearly close relationship with Drew, but that's because he already knows about it — unbeknownst to Nina.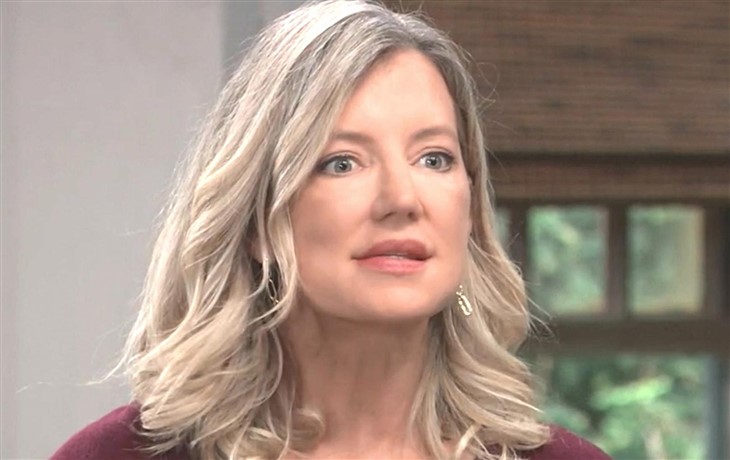 GH Spoilers – Hint Sonny Corinthos Is Always Watching
Sonny might not have his eyes on Carly, although he definitely doesn't like seeing her with other men. In fact, he just might be grateful for her secret romance status since it prevents him from having her new love thrown in his face. The longer Sonny can pretend he doesn't have a problem with Carly moving on with another man, the longer he can hold out in his relationship with Nina pretending that he's moved on from his ex-wife.
With Sonny's attention on his current love, he's going to notice when she's up to something. Just because Nina won't be transparent about her intention to figure out why Carly and Drew are hiding their relationship, doesn't mean Sonny won't notice how overly obsessed Nina is becoming with what Carly is up to.
General Hospital Spoilers — Nina
Reeves

Must Choose

Sonny has warned Nina time and time again that he won't tolerate in-fighting in his family. There has certainly been enough of it already. Now, his family is officially blended with hers since Willow Tait (Katelyn MacMullen) is her daughter. If Nina's real intention is to find a way into Willow's good graces, the last thing she should be doing is going after Carly.

Will her desire for revenge get the best of her? Moreover, will Nina really forsake her relationship with Sonny just to make Carly pay for what she's done? When he forces her to choose, her actions may not line up with what Nina claims she wants — ultimately forcing Sonny to make the decision for her. If she forces him to choose between her and Carly, she won't like the outcome. Stay tuned for more GH news and spoilers just ahead.