General Hospital Spoilers Thursday September 21: T.J. Calls Out Jordan – Sam Is Confused – Ava Gets In Deeper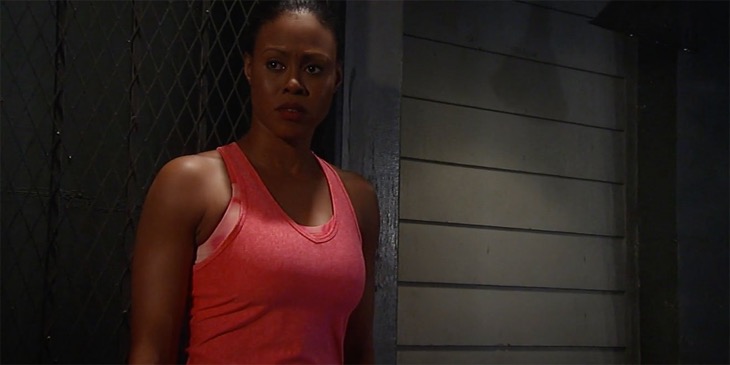 General Hospital for Thursday September 21 promises another exciting episode. Please be sure to tune in, you don't want to miss any of the drama.
General Hospital spoilers for Thursday September 21 reveal T.J. (Tequan Richmond) calls out his mother (Vinessa Antoine) during a heart to heart. Jordan tells her son she can't afford to make any more bad choices. Jordan watched Curtis shake hands with Sonny (Maurice Benard) on the docks and jumped to the conclusion he had agreed to work with him. She then gave Curtis an ultimatum; Sonny or me and walked away, leaving he decision up to him. Is she willing to give up her chance at love? T.J. wants to know if she and Curtis have called it quits after they fought so hard to be together.
Meanwhile, Valerie (Brytini Sarpy) questions Curtis about his relationship with Jordan. She asks her former lover if he is willing to make the necessary sacrifices to be in a relationship with the police commissioner. She forces him to look at the choices he has made in his life. They broke up because he used her position in the police department to gain access to files he never should have seen. Is he willing to give up his friends for a life with Jordan? He must make a tough choice.
Across town, it looks like that loving feeling is gone as Lulu (Emme Rylan) demands answers from Valentin (James Patrick Stewart). ABC spoilers indicate Lulu has discovered his secret pact with Ava and she may believe Valentin has killed or harmed her to put a stop to the civil law suit Spencer (Nicolas Bechtel) filed for the wrongful death of his father Nicolas Cassadine (Tyler Christopher). From the look of it Valentin does not appear to be pleased with her questioning and has no plans to cooperate.
Meanwhile, over at General Hospital Sam (Kelly Monaco) gets a visit from her friend Sonny and she tells him life has been different ever since Jason (Billy Miller) came back to her. She has agreed to place Jason in a facility that will care for him while he is still in a coma; has she given up hope of ever knowing his love again? General Hospital spoilers hint her optimism is shaken from all the turmoil she has gone through these past few months. Will Sonny be able to lift her spirits? Or will she sink deeper into despair.
Ava Jerome (Maura West) continues to seek answers about patient 6 (Steve Burton) She asks why does he have to be controlled. She has been repeatedly told to stay away from this patient however, her curiosity and love of danger has gotten the better of her. Will she go too far, and will her life be in danger? We already know Valentin has told Nina he has neutralized the obstacle standing in his way. Ava may have to make a run for it or may need a little rescuing herself.
Be sure to tune in to watch General Hospital on ABC on Thursday September 21, you won't want to miss any of the exciting drama
Also, don't forget to check back with Celebrating the Soaps for all your latest news, updates, and spoilers for General Hospital along with all your other favorite daytime television soaps.