General Hospital Spoilers Tuesday, April 18: Alexis Rattled, Holly At Risk, Willow's Big Request, Brook Lynn Confides In Sonny
General Hospital spoilers Tuesday, April 18, 2023, reveals Harrison Chase (Josh Swickard) gets news from the review board. Brook Lynn Quartermaine (Amanda Setton) tells Sonny Corinthos (Maurice Benard) she made another misstep with the right intentions. Willow Tait (Katelyn MacMullen) has a big ask.
Alexis Davis (Nancy Lee Grahn) is rattled. Tracy Quartermaine (Jane Elliot) is back in action. Holly Sutton (Emma Samms) is at risk. Valentin Cassadine (James Patrick Stuart) finds a friend in Nina Reeves (Cynthia Watros).
General Hospital Spoilers – Tuesday, April 18, 2023: Harrison Chase Learns What Lies Ahead
Chase has pleaded his case to the review board, and now his fate lies in their hands. He has humbled himself and learned from his mistakes, although he'd likely do it again if it meant defending the woman he loved from a predator — which is risky, since Brook Lynn is waging war with Linc Brown (Dan Buran) right now. Will Chase be given a second chance to be a cop?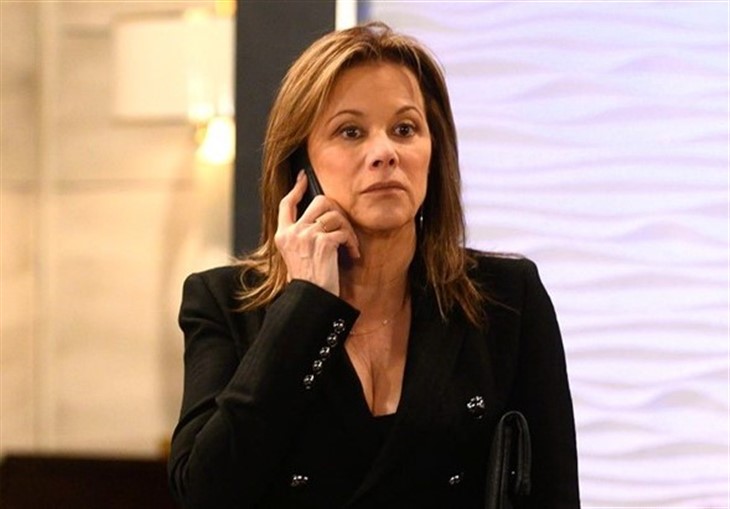 GH Spoilers – Say Brook Lynn Quartermaine Confides In Sonny Corinthos
It sounds like Brook Lynn may have opened the door for Chase to get his job back, but not without consequences. If Chase ever finds out that she meddled in his affairs again, it's going to be brutal. She just wiped the slate clean with him, and now this.
General Hospital — Willow Tait Wants Something Michael Corinthos May Not
Willow is just hours from walking down the aisle to marry Michael Corinthos (Chad Duell), and she has one last request before saying I do. Without a father to call her own, Willow might be hoping Sonny Corinthos (Maurice Benard) will give her away — and that Michael will be okay with it. Is it too much to ask to merely invite him to the wedding?
GH Spoilers – Hint Alexis Davis Can't Believe It
When Alexis finds Gregory Chase (Gregory Harrison) in dire condition, she's going to be beside herself. There won't be any explaining this away this time around, and it's clear Alexis will be forced to either lie to Hamilton Finn (Michael Easton) in keeping Gregory's secret about his health, or lose her friend before she loses him for good.
General Hospital — Tracy
Quartermaine

Returns

Tracy is headed back to life with her family, and she has more business to take care of that awaits her there. Hopefully she'll stay out of jail this time.
GH Spoilers – Leak Holly Webber Isn't Safe
Holly might be in over her head this time around. She's been committed to tracking down her son, Ethan Lovett (James Ryan), but the closer she gets to him, the more danger she will face. Does Victor Cassadine (Charles Shaughnessy) know she's zeroing in on him? It's a good thing she has Felicia Scorpio (Kristina Wagner) on her side.
General Hospital Spoilers — April 18 — Nina Reeves Is The Friend Valentin Needs Right Now
Valentin is still reeling from Anna Devane (Finola Hughes) having been shot and the emotional impact it had on him. Has this made him realize just how desperate he is not to lose her? Will Nina help him come to terms with his feelings and what comes next?
Which storyline are you most looking forward to following on GH on Tuesday, April 18th? Let us know, and keep checking back for more General Hospital news and spoilers.