Alaskan Bush People: Raiven Gives A Thumbs-Down On Birthday Gift
Alaskan Bush People fans saw in the run-up to River Brown's birthday that his mom Raiven seemed determined to make the celebration of his third year around the sun, very special. She shared a long and loving tribute to him on his special day. However, she has since returned to Instagram and revealed that one particular gift seemed like a lot of work.
Alaskan Bush People Spoilers – River Celebrated His Birthday
Six days ago, River turned three and fans loved the photos that his mom shared. The mom of two, who isn't planning for more kids, said that they would open some gifts the day before his birthday because they would be very busy on March 9. In fact, she promised that she would go live with her son on social media when he opened some of his gifts.
Prior to the actual day, Alaskan Bush People fans saw that Raiven Brown said people had asked her to put up an Amazon Registry for Gifts. All in all, there were about 26 gifts that she thought River might enjoy. Actually, many of the gifts were practical, like tumblers. But most of them seemed educational. Well, it's not clear who purchased the gift that Raiven gave a thumbs-down to. But it might have been her own choice.
Alaskan Bush People Spoilers – Star Raiven Brown Worked Hard On A Gift
On March 15, Raiven took to her Instagram and shared a photo of her birthday boy smiling. Actually, he's a good-looking little boy and he posed in front of a gift. It was a multi-story miniature house with a lot of detail in it. The top story had a crib and bed in it. On the next one down, there was a dog, a kennel, a couch, and a bathroom. Right at the bottom was the kitchen.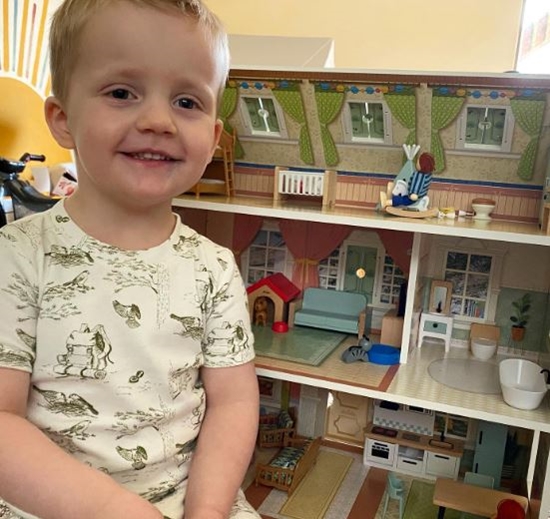 Raiven Brown / Instagram / Raiven Adams]
In her caption, the Alaskan Bush People star wrote, "Pro tip don't buy tiny furniture that you have to put together. Even put fabric on the chairs and attach it lolol. ." However, it seemed that her son was delighted with it after her hard work. She added, "River loved it so worth it!" Hopefully, he stays loving it for a long time given that his mom put so much effort into making it usable.
Alaskan Bush People Spoilers – Discovery Fans Comment
Some Alaskan Bush People fans who took to the comments shared their own experiences with Barbie Homes. One of them said, "…I had to put one together totally Christmas eve. I was awake till 5 am, she work (sic) up at 6 am ready to open presents. It was a long day… great job momma, the smile on his face makes it all worth it."`
Another fan wrote, "Love a boy who shares my love of barbie homes. You go mom!"
Be sure to catch up on everything happening with Discovery right now. Come back here often for more Alaskan Bush People spoilers, news, and updates.