Days Of Our Lives Spoilers: Dimitri Double Dumped & Destitute, Leo & Gwen's Secret Payback Scheme?
Days of Our Lives spoilers reveal that Gwen Rizczech (Emily O'Brien) could already know the truth about Dimitri von Leuschner (Peter Porte). Gwen fell a bit too easy and hard for Dimitri. Plus, with Leo Stark's (Greg Rikaart) sketchy Madonna story, it seems that the rivals might secretly be working together. Will Dimitri get dumped by both Gwen and Leo? Is the end game to take Dimitri's millions?
Days Of Our Lives Spoilers – Dimitri Von Leuschner's Mind Games
DOOL spoilers reveal that Dimitri came to Salem and wanted to play. However, Megan Hathaway DiMera (Miranda Wilson) had other ideas.
Megan urged Dimitri to marry a woman before he turned 40 to get his inheritance. While Dimitri did marry Gwen, he plans to divorce her the minute he gets his money.
While that is bad enough, it's even worse that Dimitri is sleeping with his new wife's best friend. Not only is Dimitri deceiving Gwen, but now is coercing her BFF into doing the same thing.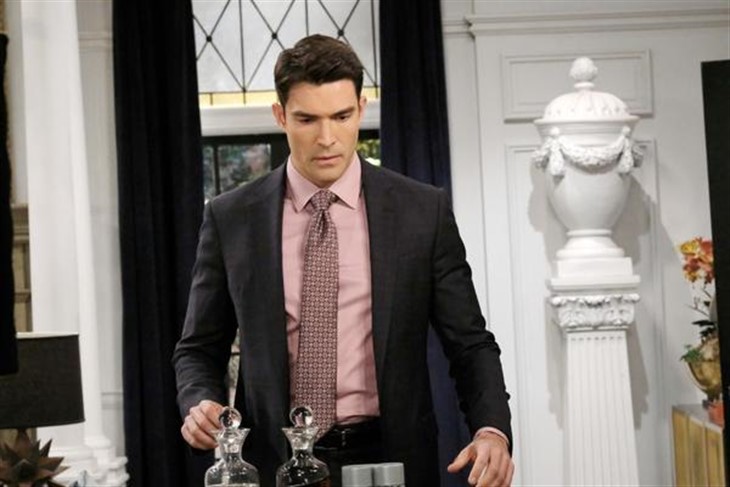 DOOL Spoilers – Leo Stark's Friendship
One interesting scene recently that suggests Gwen isn't as clueless as she is acting. Gwen is a master manipulator.
While Gwen does fall quickly as love is something she's always craved but never received, she usually clues in pretty quickly.
Gwen does try to deny facts to herself in order to keep the love she thinks she's found. However, at some point, Gwen will have to admit the truth to herself, no matter how painful it is.
As for Leo, he is Gwen's best friend. The friendship pre-dates the characters running into each other in Salem. Now, their off-screen friendship is extremely close, and they know each other very well.
READ THIS: Find out what happens next on Days Of Our Lives.
Days Of Our Lives Spoilers – Gwen Rizczech's Madonna Reaction
Days of Our Lives spoilers reveal that something fishy is up with Gwen's response to Leo's Madonna story. For Leo to claim that he didn't know Gwen liked Madonna seems a bit far-fetched.
Maybe Leo is being honest, and Gwen really doesn't like Madonna. In that case, it means Gwen is up to something… and Leo could already be in on it.
DOOL Spoilers – Duped & Dumped
Even though Gwen isn't the nicest person in Salem, nobody deserves to be tricked in love. Gwen might have married Dimitri willingly and kept it secret if he had just told her the situation. Gwen would have probably happily done it with a small payoff.
However, Dimitri made a big mistake by deceiving Gwen this way. Leo won't be able to lie to Gwen much longer. The guilt is already getting to him. As for Dimitri, he deserves to be dumped by both Gwen and Leo.
In addition to that, Dimitri should lose out on those millions. Perhaps that is Gwen's end game… maybe Leo is even in on it. Could Gwen and Leo be swindling Dimitri instead of the other way around?
Be sure to catch up on everything happening with DOOL right now. Come back often for Days of Our Lives spoilers, news, and updates.
For more about what's happening on your favorite soaps and more ways to connect with us, join the conversation on our Facebook Page, check out our Twitter feed, look for an update on our Instagram, follow us on Threads , Always stay up-to-date with us on Google News, or drop us an e-mail HERE! See you there!