General Hospital Spoilers: Is Kristina Corinthos-Davis Evolving Into A Villainess?
General Hospital (GH) spoilers suggest that the Kristina Corinthos-Davis character could be evolving. There have been small tweaks to her personality since actress Kate Mansi stepped into the role, and there could be more on the horizon.
All three Davis sisters are heroines in their own right, but is Kristina slowly transforming into a villainess?
General Hospital Spoilers -Arrows Are Pointing Towards That Direction …
Kristina seems to be on the outs with a few characters as of late. While she's been trying hard to make amends with sister Molly Lansing-Davis (Brooke Anne Smith), both she and TJ Ashford (Tajh Bellow) seems to view Kristina as a flaky mess up who always shows up to say the wrong thing at the wrong time. Instead of being grateful for presenting herself as a surrogate, the couple was outraged that she would have even thought of such a thing.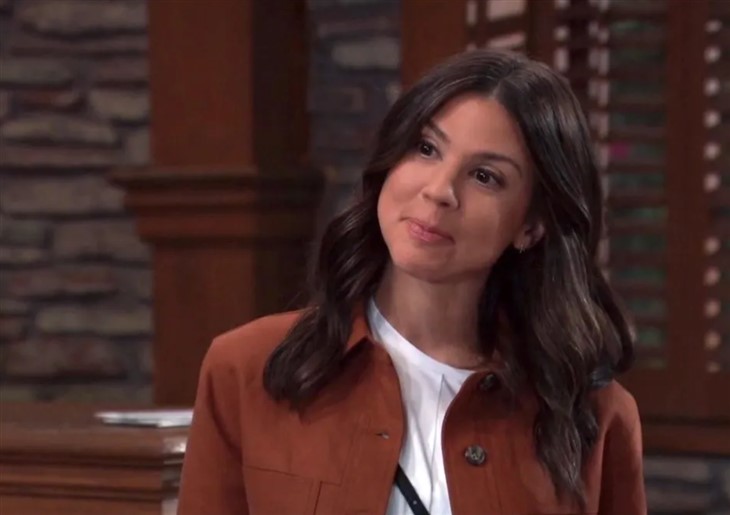 Fans know that while Michael Corinthos (Chad Duell) and Kristina have always been close, they have been on shaky ground since she accepted their dad Sonny Corinthos's (Maurice Benard) relationship with Nina Reeves (Cynthia Watros); however, there seems to be something strange brewing between Josslyn Jacks (Eden McCoy) and Ms. Corinthos-Davis. It was also a bit odd this past week that Esme Prince (Avery Pohl) suggested that Kristina treats her like a human being.
The two haven't had an interaction … ever … so the fact that Sonny's daughter not only acts "normal" around Esme but also encouraged Spencer Cassadine (Nicholas Chavez) to spend the day with Ms. Prince and Baby Ace Cassadine (Jay and Joey Clay), instead of his girlfriend Trina Robinson (Tabyana Ali), was puzzling, at best.
GH Spoilers – Where Is The Show Going With Kristina Corinthos-Davis?
On the one hand, Kristina's doing some good work by opening up a youth homeless center, but on the other hand, the show does seem to be also presenting her as a bit of an airhead. Sam McCall (Kelly Monaco) was skeptical of Corinthos-Davis's abilities when it came to her new venture, and even Anna Devane (Finola Hughes) recently made an odd comment about Kristina and "not getting the hint" when she lingered around a conversation the former spy was having with Sonny (and privacy was needed).
Where is Kristina headed and is she being transformed into a villain? Share your thoughts, below! Tune into your favorite ABC soap daily to see all the drama unfold and visit this site often for the most recent General Hospital spoilers, updates, and news.