General Hospital Spoilers: Sonny Needs Carly To Run The Business — As His Wife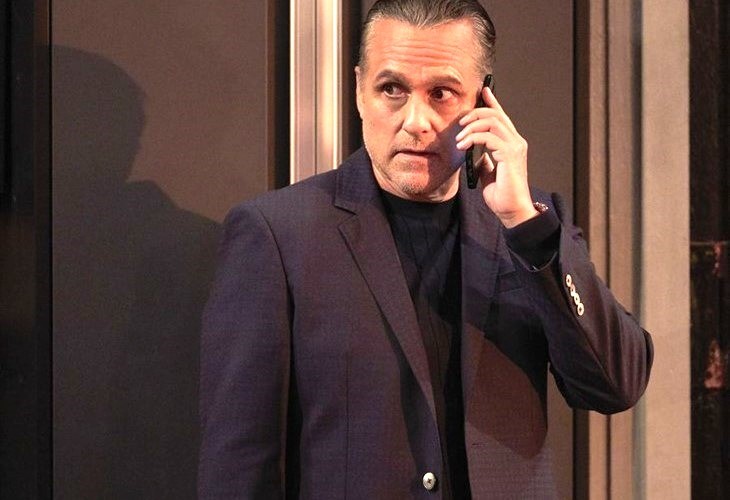 General Hospital spoilers tease Sonny Corinthos (Maurice Benard) is about to be up the river without a paddle. He's been living his best life since divorcing Carly Spencer (Laura Wright) for the fourth time. They've both moved on with their prospective new lovers, and their romantic relationships are going swimmingly. For Sonny, though, he'll soon be forced to face the reality of the love he shares with Nina Reeves (Cynthia Watros), and just how much of a fantasy they've still been living in.
Sonny isn't Mike from Nixon Falls, and Nina thinks she's accepted that. However, she's kept herself closed off from the darkest parts of Sonny's life — and he kind of likes it that way. When it becomes impossible to ignore, Sonny will need help to stay afloat — and Nina isn't going to be equipped to provide it. Enter his ex-wife, Carly.
General Hospital Spoilers — Sonny Corinthos Goes Down in Flames
Dex Heller (Evan Hofer) and Michael Corinthos (Chad Duell) have been working hard to make sure Sonny's days of reigning over Port Charles as the city's most infamous drug lord come to an end. From the Pikeman deal to the sniper in the warehouse, there have been plenty of ups and downs along the way.
General Hospital spoilers show that Dex has been warming to Sonny and his enterprise, but he's still committed to seeing Michael's plan through. When they're successful, Sonny will be behind bars and his family will be in shambles — just the way Michael planned it?
GH Spoilers – Hint Nina Reeves Is Lost
With Sonny in lock-up, Nina will be spinning her wheels trying to figure out what the best move is to get him out of there. She'll trust that Diane Miller (Carolyn Hennesy) knows what she's doing, but this time around is clearly different than the others. He could be in jail for a long time pending trial, and the justice system certainly isn't going to speed things up to get him back out on the street. Without any way to help him, Nina will be beside herself, but that's better than being angry and jealous.
General Hospital Spoilers — Carly Spncer Knows What To Do
There's only one person who knows how to handle this mess, and unfortunately for Nina, that's Carly. She might be Sonny's ex-wife, but she's still the most equipped person to manage his affairs when he is unable to. In this case, someone needs to hold down the fort while he's away so that no one else in the Five Families moves in on Sonny's territory.
Furthermore, any threats toward Sonny's enterprise put his family at risk. So, it benefits Carly and her children to make sure his organized crime empire is protected — and she'll do it right, much to Nina's dismay. Keep checking back with us for more General Hospital news and spoilers just around the corner.