Neighbours Spoilers: Elly Jealous – Brennan Love Triangle Saga Continues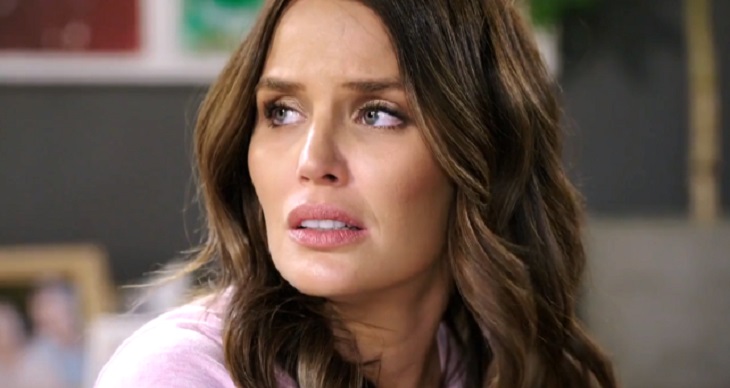 Chloe Brennan is growing closer to ex girlfriend Mel Lohan every day, but is it too much for Elly Conway to handle?
Chloe has spent months trying to control her feelings for Elly, who is due to marry Chloe's brother Mark in a matter of weeks. She is in love with Elly and needs to do anything she can to get over her feelings.
To try and do so, Chloe turns her attention to Mel, hoping that casual hook up's will help her move on. However, to Chloe's surprise, Mel insists that she won't be used for drunken hook ups because she wants their relationship to be a meaningful one. Chloe is shocked but happy, deciding that she wants to be someone that Mel can reply on, so the two decide to work on a real relationship.
Neighbours Spoilers – Elly Grows Jealous
When Chloe confides in Mel about her feelings for Elly, she is grateful that Mel is understanding of the situation, showing both care and compassion. But as they start to spend more time together Elly begins to feel like a third wheel, acting jealous over Mel and Chloe's growing closeness.
When Chloe announces to her family that she and Mel have made their relationship official her brothers are thrilled, but Elly remains clearly suspicious of Mel. Once again Aaron confronts Elly, asking her if she's jealous that Chloe is paying more attention to Mel than she is to her.
Neighbours Spoilers – Chloe Set Up For Heartbreak
Of course, Elly firmly denies such an accusation and makes her best effort to support their relationship. However, she does make sure to order Aaron to look out for Chloe and ensure that Mel doesn't hurt her again.
Elly's hens night is in full swing! But Chloe seems to have someone else on her mind #Neighbours #Chelly pic.twitter.com/qoHzpVxCco

— Neighbours (@neighbours) February 6, 2019
Will Elly's worries be proved right?
Tune into Neighbours on Thursday 14th February to watch the storyline unfold.
Check out our exclusive Neighbours spoilers page for more details!
Want up-to-the-minute soaps news, spoilers, and gossip on your social feeds? Just hit 'Like' on our Facebook page and 'Follow' on our twitter