General Hospital Spoilers Thursday, August 3: Ava Horrified, Cody Worried, Joss Stunned, Kristina Interrupts
General Hospital spoilers Thursday, August 3, 2023, here Trina Robison (Tabyana Ali) confides in Dex Heller (Evan Hofer).
Kristina Corinthos Davis (Kate Mansi) bursts right in. Cody Bell (Josh Kelly) airs his concerns. Josslyn 'Joss' Jacks (Eden McCoy) gives Spencer Cassadine (Nicholas Alexander Chavez) a good talking to. Eddie Maine (Wally Kurth) learns something surprising.
TJ Ashford (Tajh Bellow) and Molly Lansing Davis (Brooke Anne Smith) take the first step toward parenthood.
Ava Jerome (Maura West) makes an accusation. Curtis Ashford (Donnell Turner) confides in his aunt, Stella Henry (Vernee Watson).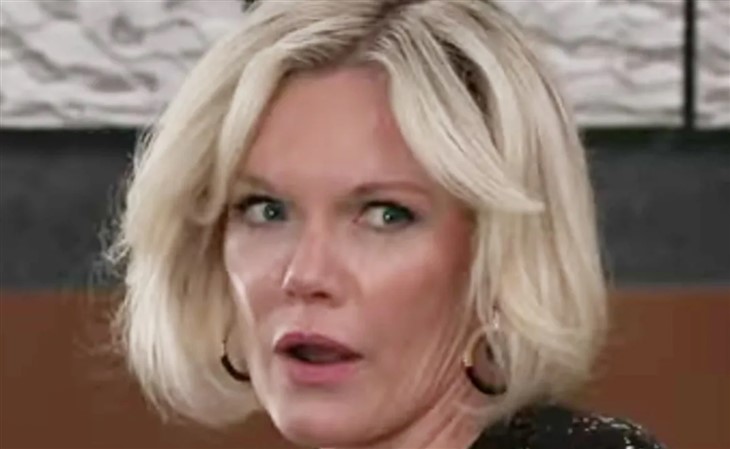 General Hospital Spoilers – Thursday, August 3, 2023: Trina Robinson Bares All
Trina shares her feelings with an unlikely ally — Dex, who may not have the most encouraging feedback for her. Nonetheless, Trina will continue to have more respect for him than her boyfriend does.
General Hospital – Spoilers Say Kristina Corinthos Davis Interrupts
Kristina won't push pause before interrupting in an unwelcome manner. Is this about Molly and TJ and their pregnancy plans? Will she insert her foot into her mouth again out of too much excitement for them?
GH Spoilers — Cody Bell Is Worried
Cody has concerns about a change in circumstances at the Q mansion. Is Eddie about to cramp his style? Is Leo Quartermaine (Easton Rocket Sweda) any part of his concerns?
General Hospital – Spoilers Hint Joss Jacks Chastises Spencer Cassadine
Joss will be stunned to hear Spencer say he actually feels sorry for Esme Prince (Avery Kristen Pohl). Is there anyone less deserving of his sympathy?
GH Spoilers — Eddie Maine Is Shocked
Eddie and Olivia Quartermaine (Lisa LoCicero) will make time for small talk at the Q mansion, and her words just might leave Eddie reconsidering his steadfast position on who he is and what he does and does not want in his life.
GH Spoilers — TJ Ashford And Molly Lansing Davis Get Excited
TJ and Molly are ready to be parents. The next step is figuring out how they're going to do that. Will they loop their family in before they figure that out?
General Hospital Spoilers – Leak Austin Is On The Defensive
When Ava puts Austin on the spot and accuses him of killing Gordon Stevens (Maurice Hall), the good doctor may not know what to say but Ava is horrified.
He's been trying hard to keep up a certain reputation with Ava and he may not want her to glean what he might actually be up to.
General Hospital Spoilers — August 3 — Curtis Ashford Opens Up To Stella
Curtis is scared of the future and what it may hold. He's not ready to go home and accept his life as a man in a wheelchair. Can she help him overcome his anxiety?
Which storyline are you most looking forward to following on GH on Thursday, August 3rd? Let us know, and keep checking back for more General Hospital news and spoilers.
You Might Also Like
Subscribe To Celebrating The Soaps Newsletters
Subscribe To Celebrating The Soaps On Google News
Subscribe to ALL Our Soap Videos
For more about what's happening on your favorite soaps and more ways to connect with us, join the conversation on our Facebook Page, check out our Twitter feed, look for an update on our Instagram, follow us on Threads , Always stay up-to-date with us on Google News, or drop us an e-mail HERE! See you there!